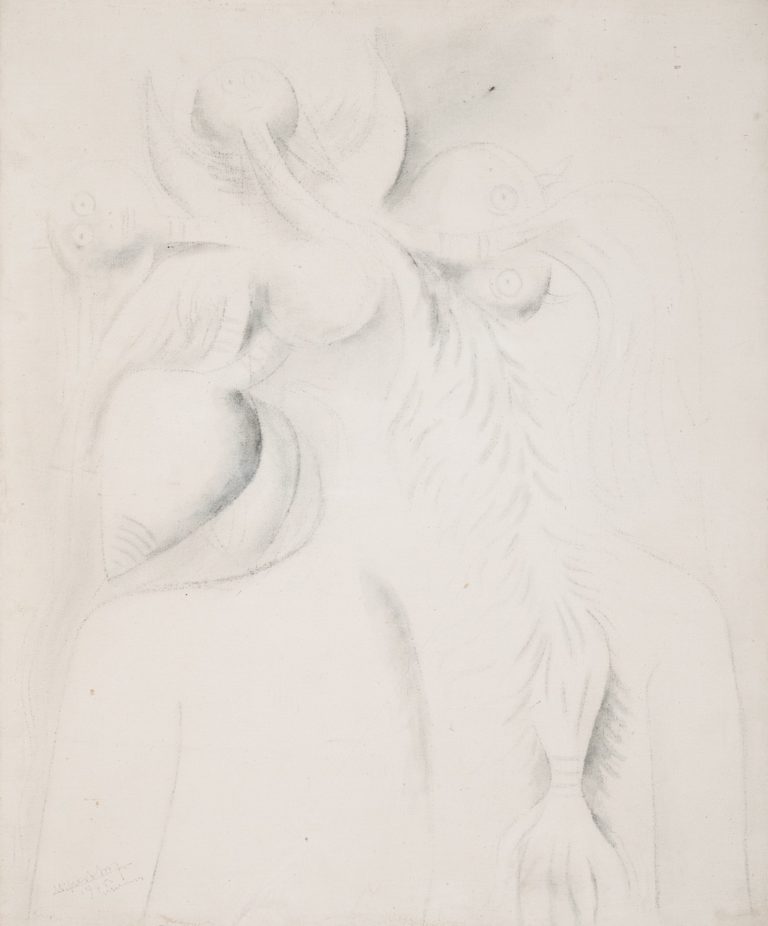 Wifredo Lam. La Chevelure (The Mane), 1945. Oil and charcoal on canvas. 28 3/4 x 23 5/8 inches. Collection Pérez Art Museum Miami, gift of Jorge M. Pérez ©2020 Artists Rights Society (ARS), New York / ADAGP, Paris 
After analyzing and studying European art for over thirteen years, artist Wifredo Lam underwent an extraordinary transformation. This epiphany allowed him to weave together the threads that united his Afro-Cuban roots with his European modernist training. Lam's artwork deals with a universe that transcends nationality, race, and origin. Born to a Afro-Cuban mother and a Chinese father, Lam's was a mind split between Europe, Asia, Africa, and the Americas. As a young man he trained in the academic tradition in Havana and later in Madrid. Unable to fully identify with this Euro-centric model, Lam turned to the avant-garde, which was embracing non-western philosophies and aesthetics. He mentored under Pablo Picasso who became an incredibly important catalyst in his artistic development: Picasso's interest in African and other non-Western tribal art reminded Lam of his youth surrounded by the African spirit. After having met key figures of the avant-garde in Europe and as Germany invaded France in 1941, Lam left for Martinique along with more than three hundred other artists and intellectuals, later settling in Cuba after eighteen years of separation. While in Cuba, Lam associated himself with the Cuban writer and ethnologist Lydia Cabrera, American author Ernest Hemingway, and the father of Magic Realism, Alejo Carpentier. Lam became highly sensitive and aware of African traditions and he frequented Afro-Cuban religious ceremonies. During this period, the artist flourished, creating characters that are bizarre hybrids of figure fused with the environment.
Lam lived in Cuba for nine years before returning to Paris in 1952. During that time in Cuba, he also traveled to New York, where he met several key figures from the New York School, and lived briefly in Haiti where he participated in Vodou ceremonies alongside the Surrealist André Breton. La Chevelure (1945) is an example of the erotic and sensual forms that became characteristic of Lam's work during his stay in Cuba. This painting is a portrait of a woman with her back to us, revealing a fantastical chevelure or head of hair that is a bizarre hybrid of fruits, breasts, leaves, and hair. Only the tip of her braid remains distinguishable from this nest of sensual forms. For La Chevelure, Lam used a reduced palette, a habit he had begun the year before. Working with only shades of brown, black, grey and white, the underlying charcoal drawing peeks through the thin washes of paint, allowing his skills as a draftsman to become understood. In this work, his mastery of line is apparent. La Chevelure was created at a time when Lam had reached a breakthrough in his conceptual and philosophical quest, exemplified by both this smaller work and his large-scale masterpiece of the period, The Jungle (1944).
Afro-