Erica Moiah James
Florida-based CCI Fellow Erica Moiah James's project focused on developing a chapter in her second academic book, which aims to historicize the concept of the global over a period of five hundred years through a series of artworks created in/on "the Caribbean" from the landing of Columbus to the present day. In this particular project, she makes an argument for a Caribbean modernity unbound by space and time, studying four key contemporary works in PAMM's collection that directly engage notions of time, the idea of history, and the decolonial process in ways central to the project: San-Souci (This threshold between a dematerialized and a historicized body) (2015) by Firelei Báez; Always New Always Familiar (2000) by Janine Antoni and Paul Ramirez Jonas; La cena (1999) by Belkis Ayón; and History Will Teach Us Nothing (1998) by Rubén Torres Llorca.
Erica Moiah James is an art historian, curator, and assistant professor at the University of Miami. Her research and writing centers on indigenous, modern, and contemporary art of the Caribbean and the African Diaspora. Select academic publications include "Charles White's J'Accuse and the Limits of Universal Blackness" (Archives of American Art Journal, 2016); "Every N***r Is a Star: Reimagining Blackness from Post–Civil Rights America to the Post-Independence Caribbean" (Black Camera, 2016), "Decolonizing Time: Nineteenth Century Haitian Portraiture and the Critique of Anachronism in Caribbean Art" (Nka: Journal of Contemporary African Art, 2019), and numerous curatorial essays, including "Purvis Young: Nothing Left Unsaid" (Institute of Contemporary Art Miami, 2019); "The Black Sublime: Rene Peña's Archangel, 2018" (SX, 2019); "Ricardo Brey: Adrift" (Borgerhoff & Lamberigts MER, 2019); "Therianthropic Beasts: The Mystic Revelation of Tomás Esson" (Institute of Contemporary Art Miami, 2021), and "Edouard Duval Carrié: Historical Retelling and the Postmodern Baroque" (Bass Museum, 2020). Before arriving in Miami, James was founding director and chief curator of the National Art Gallery of The Bahamas (2003–11), a jointly appointed assistant professor in the Departments of the History of Art and African American Studies at Yale University, and Director of Undergraduate Studies in the Department of African American Studies at Yale. She was a nonresident Research Associate at the Visual Identities in Art and Design Research Center, University of Johannesburg (2019–22) as well as a recipient of a Creative Time/Warhol Foundation Arts Writers Grant (2020) and Mellon Foundation project grant focused on the multimodal art practice of Geoffrey Holder (2020). Her forthcoming book is entitled After Caliban: Caribbean Art in the Global Imaginary.  
Click here to read Erica Moiah James's essay "On Rubén Torres Llorca's History Will Teach Us Nothing."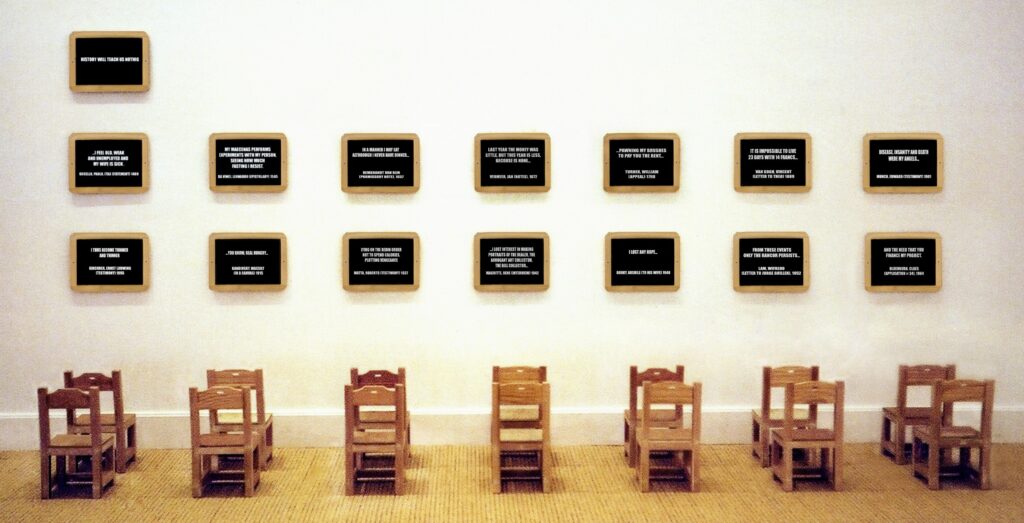 Rubén Torres Llorca. History Will Teach Us Nothing, 1998. Mixed media. Collection Pérez Art Museum Miami, promised gift of Craig and Ivelin Robins.