Jessica Taylor
Jessica Taylor's research for the CCI Fellowship expands from a close study of a selection of works in PAMM's collection by artists from the English-speaking Caribbean. The bringing together of these works fosters a cross-generational, cross-medium dialogue between artists from Jamaica, the Bahamas, and Guyana for whom diaspora can be seen as a tool for charting, exploring, and depicting connections between places and people. Spanning the 1970s to 2018, works by artists such as Aubrey Williams, Amos Ferguson, Janine Antoni, and Ebony Patterson illustrate the ways in which artists from the region are challenging systems of knowledge and power by employing methodologies that reframe existing modes of representation through enacted and imagined journeys, and their engagements with materials, storytelling, music, and poetry. Through this grouping of works, Taylor looks at the significance of travel, movement and cross-border exchange for creative practitioners from the region and considers the relationship between production and travel (of bodies, artworks, ideas, and capital) in the formation of contemporary collections of Caribbean art. The Fellowship enabled her to join and expand two ongoing strands of research—one into the role and structure of national museums in the English-speaking Caribbean and the other into institutional representation of the Caribbean outside of the region—looking at PAMM as a case study for how international institutions might enact more equitable exchanges with the Caribbean.
Jessica Taylor is a Barbadian curator and producer based in London. As Head of Programmes for the International Curators Forum (ICF), Taylor co-curated the 2017–18 exhibition Diaspora Pavilion: Venice to Wolverhampton and is co-curating the multi-site Diaspora Pavilion 2 project. She has co-curated programs such as An Alternative Map of the Universe (Guest Projects, London), Migrating Cities (SPARK, Hong Kong), Sensational Bodies (Jerwood Staging Series), and Monster and Island with artist Sheena Rose (Royal Academy of Arts, London). Taylor also produced the exhibition Arrivants: Art and Migration in the Anglophone Caribbean World (Barbados Museum & Historical Society, 2018–19), and the multi-site program Curating the International Diaspora in Sharjah, Barbados, and Martinique. Prior to joining ICF, Taylor was an assistant curator at the Barbados Museum. She holds a Bachelor of Arts in Art History and Philosophy from McGill University, and a Master of Arts in Curating Contemporary Art from the Royal College of Art.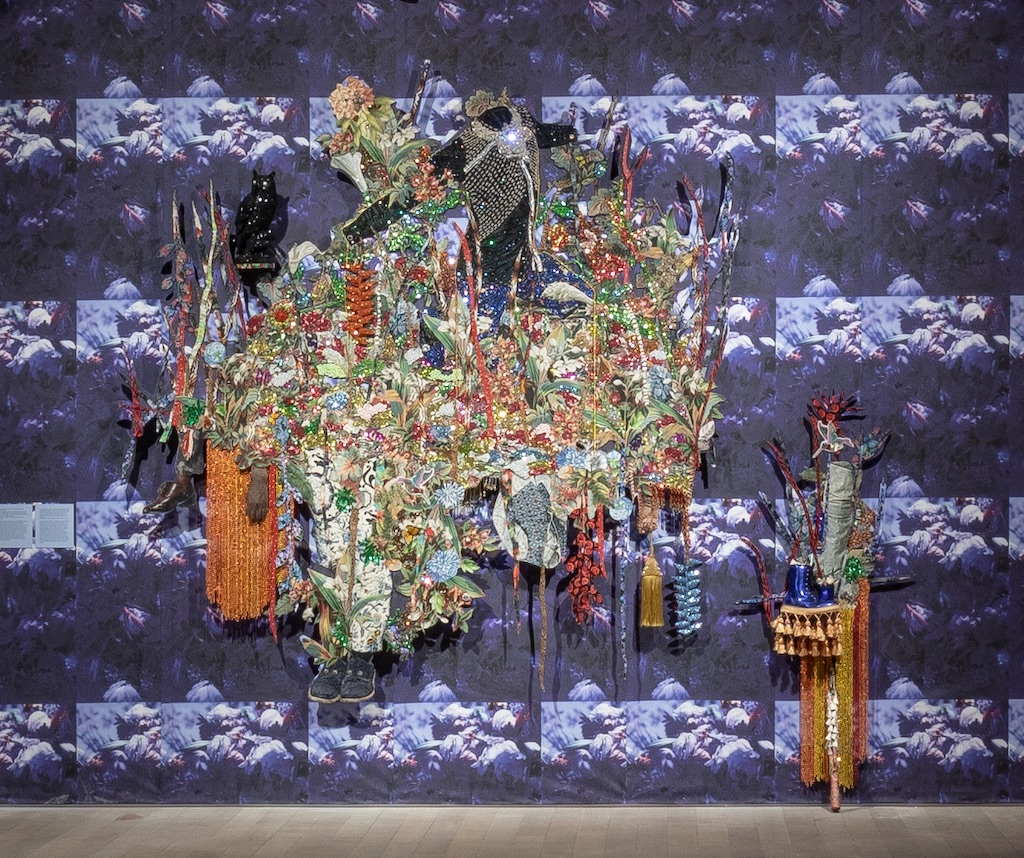 Ebony G. Patterson. … a wailing black horse … for those who bear/bare witness, 2018. Hand-cut jacquard woven photo tapestry with glitter, appliques, pins, embellishments, fabric, tassels, brooches, acrylic, glass, pearls, beads, hand-cast and hand-embellished heliconias, shelf, and hand embellished resin owl. 144 x 96 inches. Collection Pérez Art Museum Miami, museum purchase with funds provided by Jorge M. Pérez, the John S. and James L. Knight Foundation, and PAMM Ambassadors for African American Art.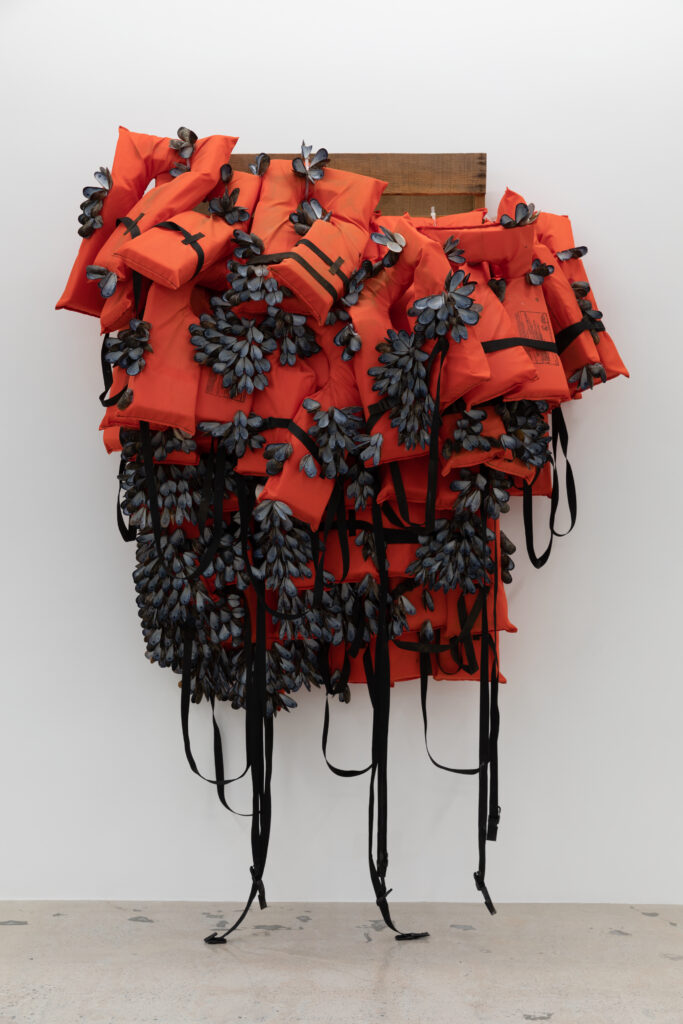 Cosmo Whyte. The Enigma of Arrival in 4 parts. Part 1: "Guess Who Is Coming to Dinner", 2017. Mussel shells, life vest, shipping pallet. 90 x 62 x 26 inches. Collection Pérez Art Museum Miami, museum purchase with funds provided by Joseph Wemple. Image courtesy Anat Ebgi.