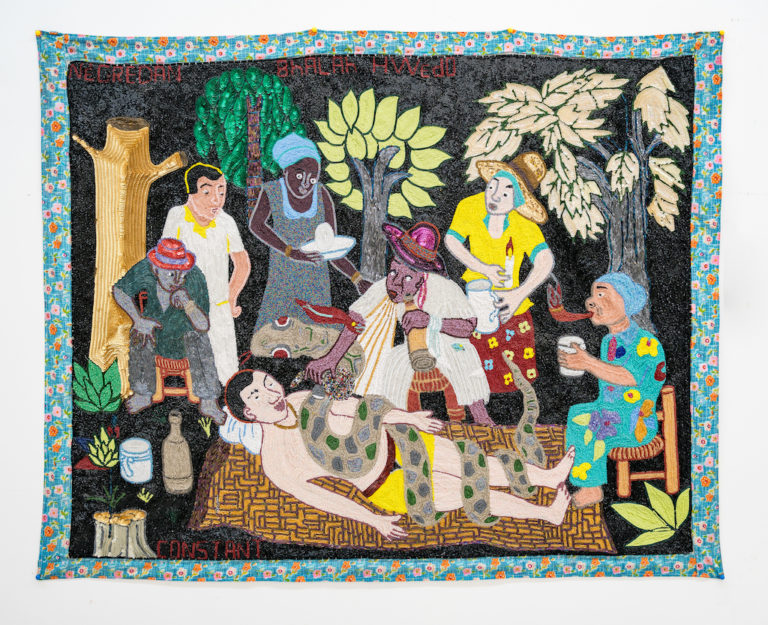 Myrlande Constant. Exorcism, 1994-2019. Sequins, glass beads, and silk on cotton. 40 x 50 inches. Collection Pérez Art Museum Miami, museum purchase with funds provided by PAMM's Collectors Council with additional contributions provided by Karen Bechtel, Evelio and Lorena Gomez, Jorge M. Pérez, and Craig Robins
Myrlande Constant is known for her intricate flags, which have every inch adorned with colorful and glittering beads and sequins. Her imagery combines Haitian Vodou myths centering on the life cycle with references to contemporary events including the 2010 earthquake, women's roles, and social upheaval in general. She acquired her skill with beaded embroidery—a technique known as tambour—while she worked at a wedding dress factory with her mother. Although she had mastered the bead application method earlier, she did not start to create her flags until the early 1990s. Her work can be seen as a reevaluation of the traditional production of Vodou flags, harnessing the power of these objects to relay myths and stories using new processes.  
Constant expands the range of the deities and veves (spells or symbols) that constitute Haitian Vodou by adding new faces and narratives to her compositions. Exorcism (1994–2019) portrays a group of people exorcising, or healing, a white man. Constant's depiction of this ritual includes Ayida Weddo, the rainbow serpent omnipresent in Vodou. According to Vodou belief, the serpent and the rainbow arrived on earth to teach humankind about the connection between blood and life, menstruation and birth. In Constant's image, the serpent deity heals the nonbeliever by wrapping him in its coils. Surrounded by believers and offerings for the Ayida Weddo, another white man, dressed in white, observes the scene in awe. The artist's name appears in embroidered letters at the lower left, marking her presence in the scene. Like many other flags produced by Constant, Exorcism not only expresses her interpretation of sacred objects with dense visual and conceptual layers, but also captures the immaterial and spiritual essence of Vodou in the physical world.