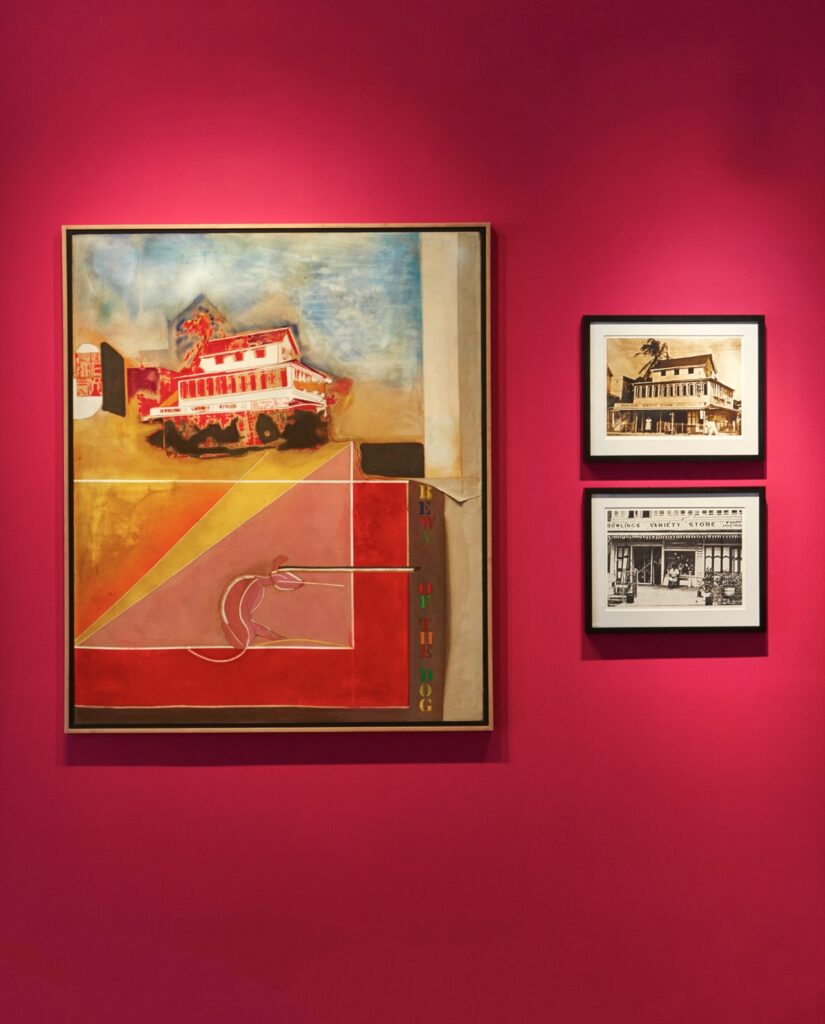 ---
When I go back to Georgetown, Guyana, my first ritual of return is to visit the house where I spent my childhood. The colonial-style house on Middle Road no longer belongs to me. Its present state of decay and disrepair conflicts with my memory of its vibrancy when I first left that homeland twenty-five years ago. It was neither a beloved house nor was it hated. Yet it held me and gathered my beloveds. "Houses provide a frame that bears us up," writes Sarah Broom in her memoir The Yellow House about her own beloved New Orleans childhood home, which was taken by Hurricane Katrina. "Without that physical structure, we are the house that bears itself up."1 How can a house reflect migration's arcs, its losses and its gains? What compels me to reenact a ritual to meditate on the architecture of abandonment remains unknowable and unreconciled.
Perhaps it is this unknowing, this quest for reconciliation, that draws me into the "mother's house paintings" by Guyanese-born British artist Frank Bowling OBE RA (b. 1934, British Guiana). A master of painting, Bowling has, for the past six decades, been defined by his expert weaving of autobiography and geographical subject matter into the formalist rigor of color abstraction. In tandem, the series of early figurative and abstract paintings in the artist's storied oeuvre, informally regarded as the Mother's House Paintings, are defined by a singular motif: a 1953 photograph of the house he grew up in and often returned to—his mother's house—in New Amsterdam, Guyana.
In 1953, at nineteen years old, Frank Bowling moved to London. He was leaving British Guiana at a time rife with political unrest as the colony moved toward its long journey to independence from British colonial rule, which would come later, in 1966. Leading up to his departure from the land of his birth, Bowling spent the impressionable years of his adolescence in New Amsterdam, a port town on the Berbice River, sixty miles from the country's capital city of Georgetown. Bowling's mother, Mrs. Agatha Elizabeth Bowling, a formidable figure in his life, was a skilled dress designer who also built and operated Bowling's Variety Store on Main Street, New Amsterdam, which functioned as both the family's home and her dressmaking business. For Bowling, "mother's house" as he simply called it, came to symbolize a deeply tumultuous and vulnerable relationship to New Amsterdam. In a 2011 interview, he shared, "New Amsterdam is the most important place, and it reappears all the time. . . . In my quiet moments it reappears. It was a town that was full of terror, and at the same time it was marvelous. . . . It belonged to me."2 After migrating from Guyana and setting up studios in London and later New York City, Bowling returned to his mother's house several times between 1962 and 1989. Each visit left an indelible mark on the artist's psyche and ignited the formidable body of work—the Mother's House Paintings.
The three-story clapboard colonial house on Main Street would secure its place as an impressive presence in his paintings and in many of their adjoining titles. It is this singular architectural motif of the house photographed on the Coronation Day of Queen Elizabeth II that defines the Mother's House Paintings.3 The black-and-white image captures the grandiose architectural beauty of the many historic colonial wooden houses that still dominate Guyana's landscape. In the 1953 photograph, Bowling's mother poses in front of the house. Above her, large capital letters painted on the awning of the ground floor declare the shop's name—Bowling's Variety Store. Bountiful windows circle the second story, allowing for cross ventilation and a reprieve from the region's heat. On the right, in front of the house, the British flag, the symbol of empire, sways from a flagpole. The third story is sheltered with a high-pitched triangular zinc roof. And, in the background to the left, the fronds of a towering, windswept palm tree loom above it. "The image clearly had a powerful emotional resonance," writes critic Mel Gooding, and "it would become a recurring thematic reference point, a motif that carried the illusive charge of a memory of home, a signature intimation of origins."4 Further, as curator Okwui Enwezor noted, "It is a transitive image. It is an idea that Bowling has effectively employed over time. . . . It marked the start of a look back to Guyana, especially New Amsterdam. . . . The picture of the building . . . served as a talisman."5
It is noteworthy that the distinct colonial-style architectural characteristics of Bowling's mother's house, such as its windows and pitched roof, can be traced to colonial influence on the country—shaped over decades by the presence of the French, Dutch, Spanish, and finally and most dominantly, the British. These features are equally a testament to the craftmanship of skilled Guyanese builders, who were part of the country's indigenous, African, and Asian populations. These local artisans married the aesthetic leanings of colonial architects with their own expert understanding of the region's unique hot, humid climatic conditions and tropical environment.6
In 1964, while still in London, Bowling screen printed the 1953 photograph onto a stockpile of blank canvases, mostly in red or green. When he shifted his studio practice to New York City in 1966, he took that stash of canvases with him, producing the majority of the Mother's House Paintings there. From that singular photograph, the artist produced approximately 25 paintings from the mid-1960s to the early 1970s.7 Writing on the painter's choice to employ the screen-printing technique as a form of improvisation and experimentation, art historian Kobena Mercer notes: "The silkscreens . . . inscribe something memory-like that can be said to survive the necessary losses through which every self must leave home to acquire a life of its own. But as it is technologically mediated, rather than rendered by hand—thus withdrawing any expressive authorship from the scene—the trace structures among the dripping, pouring, and staining are always markings of difference that are also open toward a futurity not yet present in the world."8
While the physical traces of the photograph intimate "markings of difference," Bowling's varied artistic treatments often evoke a sense of terror, displacement, and scattering in the paintings. We see the artist—meticulous in illuminating his subject's aesthetic possibilities as well as its potential narratives—treat the image with great care as well as violence. His actions of layering, overpainting, veiling, collaging, stitching, scratching, engulfing in fiery blazes, and even obscuring and erasing the image on the canvas illuminate the incredible range with which he engages his mother's house. In turn, the structure appears as central, as silhouetted, as ghostly, as background, as foreground, as faint, as volatile, as looming, as inescapable, as fragile, as formidable.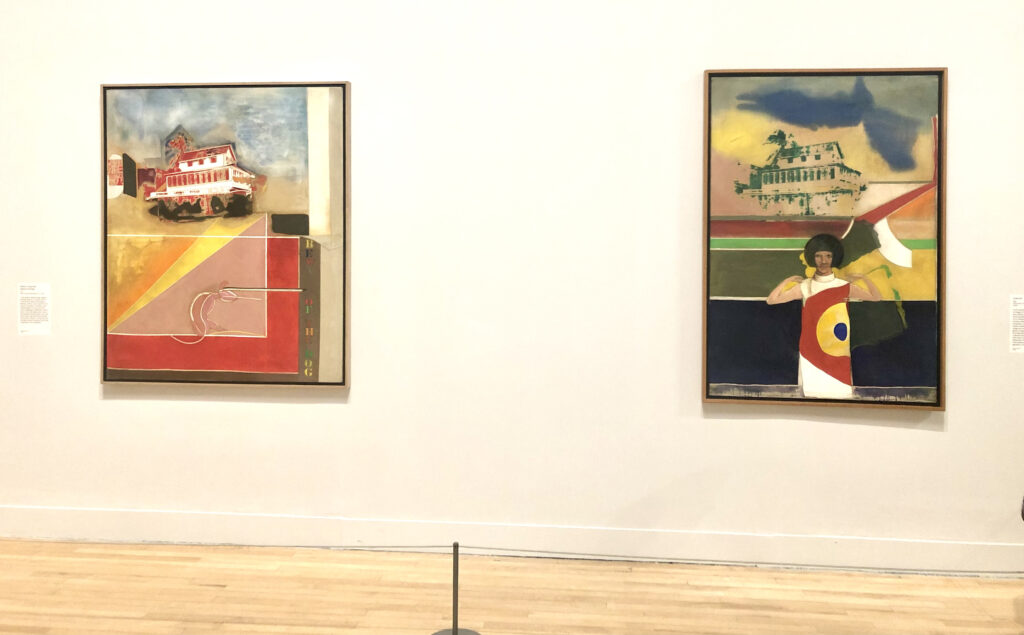 ---
A chronology of these ambitious paintings buttresses what Gooding describes as "an autobiographical tension in the painting."9 On the nuances of this tension, curator Elena Crippa has explored the "terror" that Bowling alluded to when he spoke of New Amsterdam, writing: "[New Amsterdam] was the site of childhood visions, his family home, his mother, and the disenfranchisement and abusive people who haunted his memories. It was the site imagined by white British people who, on the whole, did not allow citizens from the colonies and former colonies to integrate, constantly reminding them of their Otherness and supposed origin. It was also the political entity that, in 1966, became the independent nation of Guyana, not just his home country but the outline of a state connected to broader social and political struggle in a postcolonial world scarred and divided by racism."10
We see the remnants of this "terror," "disenfranchisement," and "markings of difference" in several works. Bowling was deeply affected by how each return to the house complicated his experiences and reshaped his memories of growing up in New Amsterdam. A 1962 trip to Guyana, the first since he had left the country, inspired the figurative works Barticabather (1966–67) and My Guyana (1966–67). In these images, Bowling conjured the visceral childhood experience of his mother making him care for the town's poor and homeless. "My mother had this ritual," said Bowling, "whereby she would send me out to collect beggars, then bring them to Bowling's Variety Store, at which point myself and Chetwynd, the brother after me, would have to wash these people, their hands and feet, and then she would feed them."11 Although often analyzed for their figurative subjects of beggars, these works pair their subject matter with the technique of stitching the image of the mother's house onto the canvas. One of Bowling's notable early paintings, Cover Girl (1966), which features the image of a model from an Observer magazine cover, is largely regarded as an example of the artist's Pop-oriented works and his engagement with the cultural moment of 1960s London (see fig. 2). Contrasting this object of affluence, Bowling juxtaposed a looming mother's house on the painting's top half. In Palimpsest I—Mothers House DarkRedGreen (1966), the mother's house image is tripled, overlapping, and barely visible through clouds of red and green paint—an attempt at erasure that directly invokes the palimpsest aptly referenced in its title—and traces of the structure remain visible even after it has been eclipsed, erased, and altered many times over. In Mother's House with Beware of the Dog (1966), the façade of the house is more prominently visible than in other works. It appears in the top half of the painting in a fiery blaze of red. There is a subtext of alarm and perhaps even violence. An ominous creature, the dog alluded to in the title, dominates the lower half of the painting, and along its right edge, the cautionary words "BEWARE OF THE DOG" are vertically stenciled in multicolored capital letters. It is a particularly disruptive painting, imploring the viewer to interrogate the danger haunting the work.
My own act of migration ignited my fascination with these paintings, which in turn informed my curatorial interest. In 2015, I received the Andy Warhol Foundation for the Visual Arts Curatorial Research Fellowship to explore Caribbean diasporic artists whose work engages experiences of migration. That research led me to curate the exhibition Un | Fixed Homeland (Aljira Center for Contemporary Art, Newark, New Jersey, 2016), where I featured Bowling's 1966 painting Mother's House with Beware of the Dog. I paired the painting with two images generously loaned by the Frank Bowling Archive—the seminal 1953 image of "mother's house" as well as another 1953 photograph of the artist's mother sitting in front of the house. As an overall body of work, the period in which the Mother's House Paintings were produced is commonly summarized as transitional, marking Bowling's evolution from realism, Pop art, and figuration to abstraction. In fact, when individual works are analyzed, often the image of "mother's house" is relegated to a supporting role, or to the background, or minimized as a precursor to Bowling's critically acclaimed series of Map Paintings (1967–71), which followed. Indeed, the Map Paintings, extraordinary large-scale works characterized by stenciled outlines of maps of Guyana, South America, other continental landmasses, and Bowling's engagement with cartography, bodies of water, and landscape defined the artist's mastery of color and abstraction.
In fact, in some of the later works in the series of Mother's House Paintings, such as Plus Mother's House (1968), Middle Passage (1970), and Where is Lucienne? (1971), Bowling began to combine the screen-printed image of his mother's house with stenciled maps of Guyana and South America—evidence that they represent a significant gateway to the Map Paintings. Nevertheless, on their own, the Mother's House Paintings stand as fundamental to the trajectory of the artist's practice. In Bowling's major retrospective at Tate Britain in 2019,12 I was elated to see key works from this series exhibited: Cover Girl (1966), Mother's House with Beware of the Dog (1966), My Guyana (1966–67), Mother's House Overprinted x 3 (1967), Who's Afraid of Barney Newman (1968), Bartica (1968–69), and Middle Passage (1970). And currently, the Frank Bowling's Americas exhibition on view at the Museum of Fine Arts, Boston13 brings together Untitled (Mother's House) (1966), Palimpsest I—Mothers House DarkRedGreen (1966), Mother's House and Night Storm (1967), Mother's House Overprinted x 3 (1967), Mother's House on South America (1968), Who's Afraid of Barney Newman (1968), Mel Edwards Decides (1969), and Middle Passage (1970). It is rare to see these early mother's house paintings completed over 50 years ago and now spread across the world in various private and museum collections gathered in one space. Yet, when they are reunited—even partially, they powerfully illuminate the range and potency of this body of work.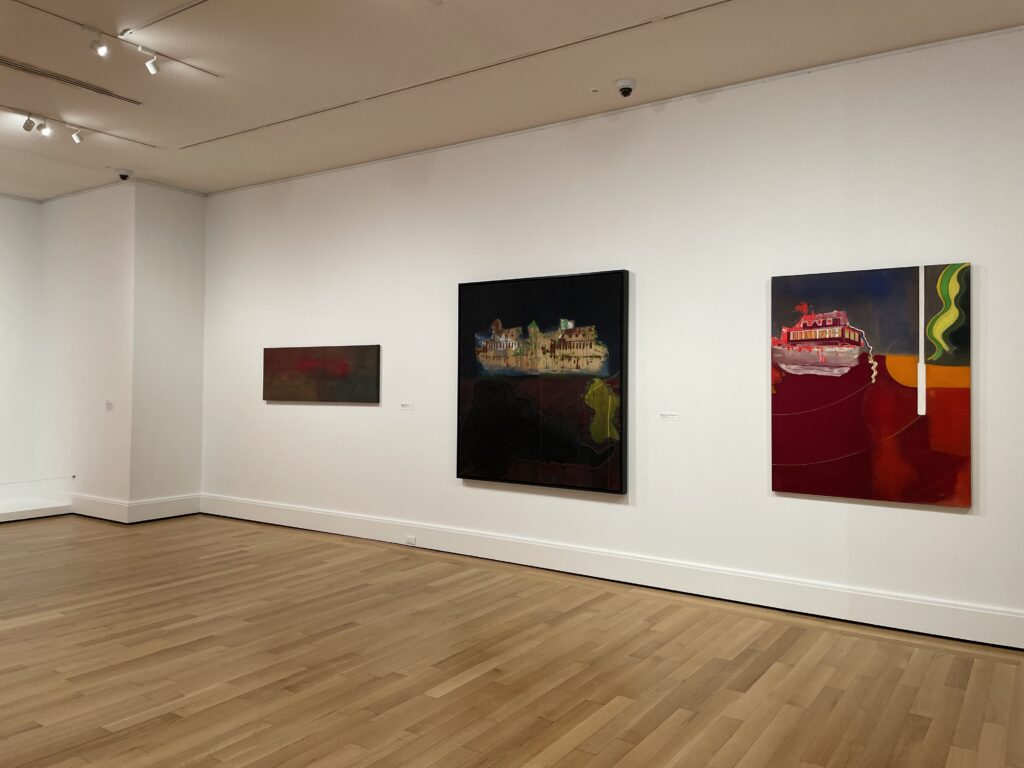 ---
Like Bowling, several of his contemporaries—Guyanese artists who also migrated from Guyana to North America and the United Kingdom—turned their attention to the long-gone houses that shaped their early years in Guyana. They too have examined the house as architecture, landscape, place, and time in their artmaking. With their oak stick framing and plywood sheathing, the expansive series of Drawing Structures by Andrew Lyght (b. 1949, British Guiana) is a direct reference to the stick-frame houses in Guyana that first ignited the artist's attraction to line and structure. In his mixed-media collages such as Songs for the Mighty Sparrow: The Ballad of Monkey Mountain (1998), Donald Locke (b. 1930, British Guiana; d. 2010, Atlanta, Georgia) layered the canvas with black-and-white photographs sourced from Guyana's newspapers, some of which capture the classic Demerara windows—sloping, shuttered sash windows—that are a defining aesthetic of many of these wooden houses. And, through his painted photographs such as Mount Sinai and Rose Hall (2014), Hew Locke (b. 1959, Edinburgh)renders the houses on stilts, which still pepper the Guyanese countryside, both physically and symbolically flooded. The works are named after real places in Guyana—Mount Sinai, an old plantation estate in New Amsterdam, and Rose Hall, a small town in the East Berbice-Corentyne region.14 The original photographs of the houses were taken by Locke in 2013, during one of his many trips back to Guyana, and they capture their disrepair and collapse. Drawn to their inherent duality of beauty and decay, Locke notes: "These houses are falling apart, and returning back to the earth from which they originally came as trees. They are like spirit houses. . . . I am seeing my childhood falling down. Beautiful houses I dreamed of living in as a child are now wrecks."15 In resurrecting these houses, through both the ritual of returning to Guyana and in their artmaking, Bowling, Lyght, Donald Locke, and Hew Locke alike lay claim to what Broom poignantly declares: "The house [is] witness to our lives."
The author wishes to thank the Paul Mellon Centre for Studies in British Art for its Curatorial Research Grant in support of this project.