This interview is part of an ongoing conversation between Claire Tancons and Ronald Cyrille, which began at the Tout-Monde Festival in Miami in March 2018. It was followed-up by a virtual visit on December 9, 2020, to his studio at the Mémorial ACTe (MACTe) in Guadeloupe during his residency there (November 2020 – March 2021) in partnership with the Pérez Art Museum Miami's Caribbean Cultural Institute. The conversation will continue as Ronald is preparing for his upcoming exhibition Génésis: Mythologies individuelles.
We are both from Guadeloupe. I was born at the end of the 1970s and Ronald in the mid-80s. Ronald spent his childhood between Guadeloupe and Dominica. But it is Miami, the American capital of the Caribbean, that has brought us together. Far from the entrenched political and economic conflicts in what were once the French and British colonies of Guadeloupe and Dominica, Miami's cultural infrastructure is unparalleled in the Caribbean, and the city has a unique capacity to recognize what its cultural production inherits from the Caribbean. It both serves as an inter-Caribbean hub and generates a more comprehensive understanding of the Caribbean.
Read as French in Dominica and a Dominican in Guadeloupe, Ronald Cyrille is both a product and producer of a comprehensive view of the Caribbean. Through his work, Cyrille navigates the waters of childhood and memory, mythology and folklore, as well as the undercurrents of intimacy below the surface of wider world currents. This contemporary Caribbean storyteller-painter takes us on board a "world-ship" that travels beyond the shipping routes commonly used between the coasts of Guadeloupe and Dominica even before the arrival of Christopher Columbus in 1493; his world-ship is far from the conquistador´s caravel, the slave ship, or Noah's ark.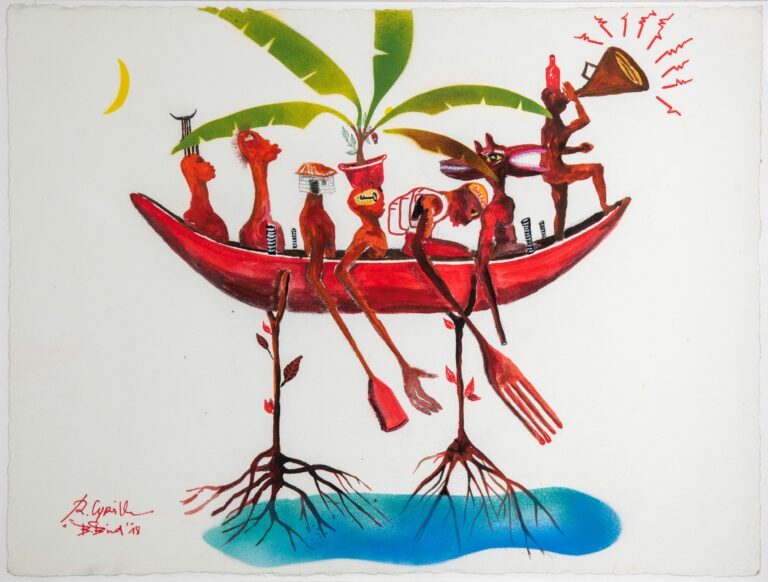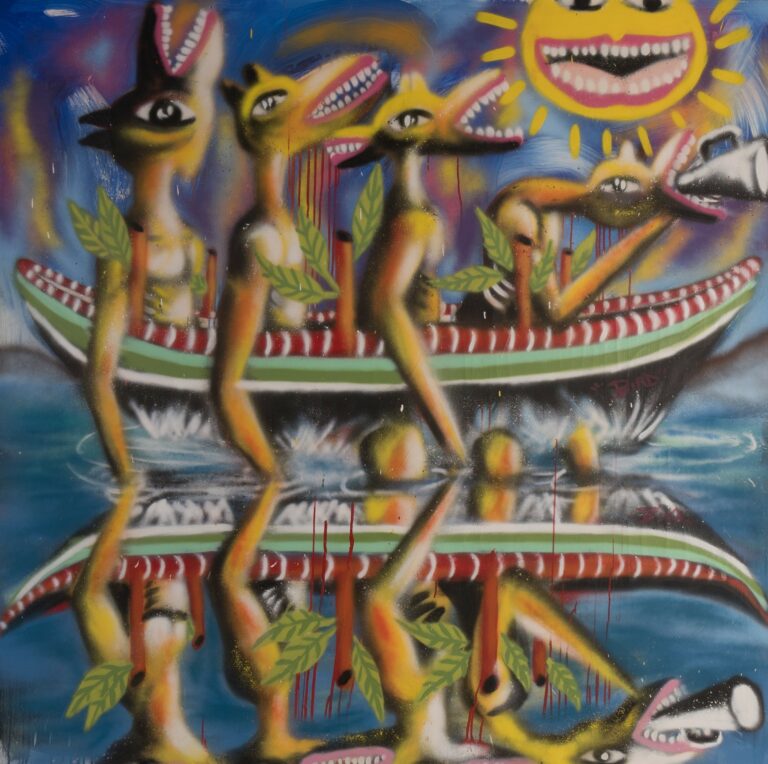 Ronald Cyrille. Key Escape, 2018. Mixed media on paper. 22 x 30 inches. Image courtesy the artist 
Ronald Cyrille. Echos, 2018. Mixed media on canvas. 75 x 73 inches. Image courtesy the artist 
Claire Tancons (CT): A recurring motif in your work is a modest skiff, a simple ferry boat or fishing vessel that looks like the traditional gommier (gomyé in Creole) and is carved out of the wood from a tree bearing the same name. This motif leaves a long wake, in my view, one that stretches from your childhood memories in Dominica with your fisherman grandfather to a Creole ethical principle that foreshadows Martinican researcher Malcolm Ferdinand's notion of the "world-ship" [navire-monde] in Une écologie décoloniale (2019). The latter forms the basis for a relation to the Other and allows for a politics of encounter.  
Can you explain the ship motif in your work, within the poetics of relation that it implies—to borrow this time from Édouard Glissant, the Martiniquais poet—and how you position yourself as an artist in relation to this ethical principle of the world-ship, given that you are often at its center?  
Ronald Cyrille (RC): My artistic practice is comparable to a boat bearing nostalgic memory but also laden with all the softness of fortunate encounters—as you can see in Key Escape (2018), Echos (2018), and An piwog là (2018)—memories that are tossed about on the waves or carried away by violent tides that force me adrift. Through my work, the Caribbean trades stories with the world and the boat becomes a tool of that communication, a way to link and create dialogue between cultures. Each work reconstitutes this continuous journey into the depths of my memory, which in turn sustains the work's creative meanderings canvas after canvas. There is also a narrative form in the work that links my past to my present, combines melancholy with euphoria, connects resilience with protest, and highlights the achievement of a kind of balance rather than a paradox. It's an obsessional and symbolic universe in which convention has no place. I can move forms and objects as I wish within its magico-religious logic and the imaginary of the Creole language, in order to refer to an "elsewhere" that is sacred or profane.   
CT: Your work's spiritual dimension is as striking as it is elusive, much like spirituality within Caribbean culture: it is simultaneously ubiquitous and ungraspable. In a more concrete and immediate sense, this ship bridges your Guadeloupean and Dominican identities, which you always make a point of both mentioning and distinguishing; the ship merges theses identities into a representation of the Caribbean as a whole. You appear to express this tenacious duality and the redeeming fusion that results from it through double portraits and split figures. These figures themselves also draw on Creole tradition. Can you tell us more about how each of your island identities, so geographically and culturally close to each other yet so distinctive and unique, have influenced your trajectory as an artist? 
Ronald Cyrille. Génésis 1 and 2, 2021. Mixed media on paper. 27 x 20 inches. Image courtesy the artist 
RC: My dual culture is indeed represented in my work by two-headed characters (Genesis 1 and 2, 2021) that symbolize tradition but also refer to the myths and spiritualities that belong to me as well as to our territories. I grew up in Dominica, in its lush landscapes, which are fundamental components of my work. These landscapes represent the legacy of my deeply ingrained origins. My family was close and had a relationship with nature that sharpened by attention to and my sense of connection with it. When I landed in Guadeloupe, in the heart of the city, I was influenced by urban life: the frenzied activity there, the overcrowding, and the opportunity the city offers. Its bare walls provide vast and numerous surfaces for artistic creation. I never had to choose! I found a balance between my multiple identities that, in the end, didn't need to be disentangled since they are complementary parts of who I am: a Caribbean!  
CT: The boat that travels between Guadeloupe and Martinique is also a migrant's boat—specifically of Dominicans immigrating to Guadeloupe in search of better financial opportunities. You don't address this issue directly in your work, but the theme of wandering, of which this immigration is part, is persistent throughout your practice; this feeling of always being between two worlds, of having to play things by ear. How else do you represent this wandering, besides through the (literal) motif of the boat?  
RC: Wandering is part of my personal mythology and it is represented by recurring figures such as the dog, or chyen, a symbol of vagrancy. In fact, there are many abandoned dogs on these islands. They are referred to vulgarly as "chyen kréol." Their behavior is unpredictable and so they are beloved but also feared. The bird depicted in my work is a messenger both of happy and also occasionally of tragic stories. The bird eases the feeling of being uprooted because it can travel across these lands. Its message must sometimes be deciphered. Water represents purity, rebirth, but also vastness and immensity and immersion. The ever-evolving character of the Creole dog, which I depict with a long snout, appears often in my paintings. Through its body language and the role it plays in a given scene, the dog also represents man. It is a symbolic figure both in my paintings and on the islands.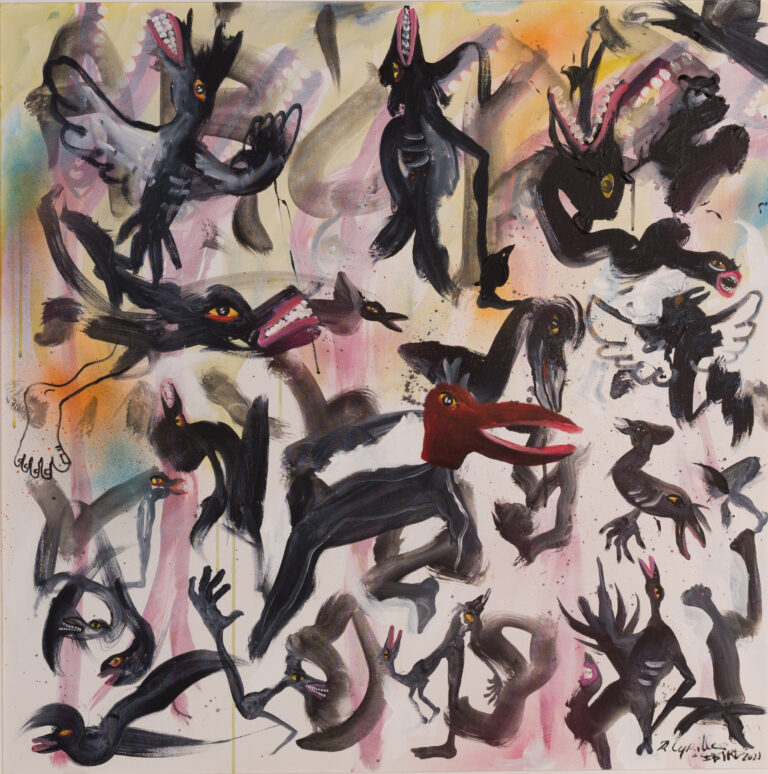 Ronald Cyrille. Abécédaire, 2021. Acrylic on canvas. 39 x 39 inches. Image courtesy the artist 
CT: Far from illustrating the fables of the rich Creole imagery from which you draw inspiration, you create new stories that oscillate between a common Creole mythology and a personal artistic one. Your pictorial escapades remind me of the literary verve of Simone Schwarz-Bart in Un plat de porc aux bananes vertes (A Pork Dish with Green Bananas, 1967) or Pluie et vent sur Télumée Miracle (The Bridge of Beyond, 1972). How do you facilitate this transition and what methods do you use? Which mediums do you borrow or invent? 
RC: My work also represents a different form of wandering, a pictorial vagrancy, or the movement of characters from one canvas to the next and the narrative this movement creates. I give free rein to the stories created by my bestiary. The work wanders between the studio and the street, and between figuration and abstraction. Sometimes, I tend towards abstraction, towards formal and gestural release. At other times, I want to study an object, a face, a presence, a memory from a different perspective. There is a constant struggle between canonical references and those that I wish to deconstruct or break down and present in a new form. I aim for a kind of synthesis between two different positions in my practice. For me, this is a way of materializing my double culture, my double heritage, as if I were fully aware that I am two-in-one. Open to the world and culturally rich, I want to travel through painted spaces that are beyond me, or which offer a perpetual challenge. Perhaps this desire is the embodiment of creolization. 
CT: In addition to the maritime theme of wandering and migration—of connections and passage—there is the theme of the earth, as well as the plant and animal world, which you call Green Paradise Lost, and of your bestiary. I see the Green Paradise as Dominica, based on my own experience but also in terms of the organic reality of the earth there and the tourist imagination and Hollywood representation of the Caribbean Islands (part of Pirates of the Caribbean 2: Dead Man's Chest (2006) & 3: At World's End (2007) were shot in Dominica). Dominica has always seemed to me to be what Guadeloupe must have been fifty years ago. But what does Green Paradise Lost actually refer to for you? 
RC: Green Paradise Lost is a series of imaginary landscapes that refer to a quest for serenity. Here too I try to grasp that which is incomprehensible in nature's beauty and force, that which makes it an inexhaustible resource. Nature was also my first teacher. I studied shapes, planes, colors, and contrasts in nature. It is a place of endless possibilities. Urbanization is progressively causing nature to disappear and so Green Paradise Lost is a way of maintaining these memories of places I will never see again. For me, this Paradise symbolizes life and the hope of renewal in all its forms. Meandering through the landscape in the back of a van as a child in Dominica allowed me see nature as a magnificent spectacle, with its contrasts and its colors, the wind blowing in my ears, with no limit on my vision except the occasional dazzling glare of the sun. These memories are etched into my mind as a feeling of freedom. I felt a strong opposition between these afternoons spent wandering and the urban life I landed in in Guadeloupe. The city's flat landscapes, though just as beautiful, were sporadically transformed by construction sites in which bulldozers dug into the earth, uprooting plants, and dotted with cranes that replaced trees. It is this urban life that made me nostalgic for Green Paradise Lost.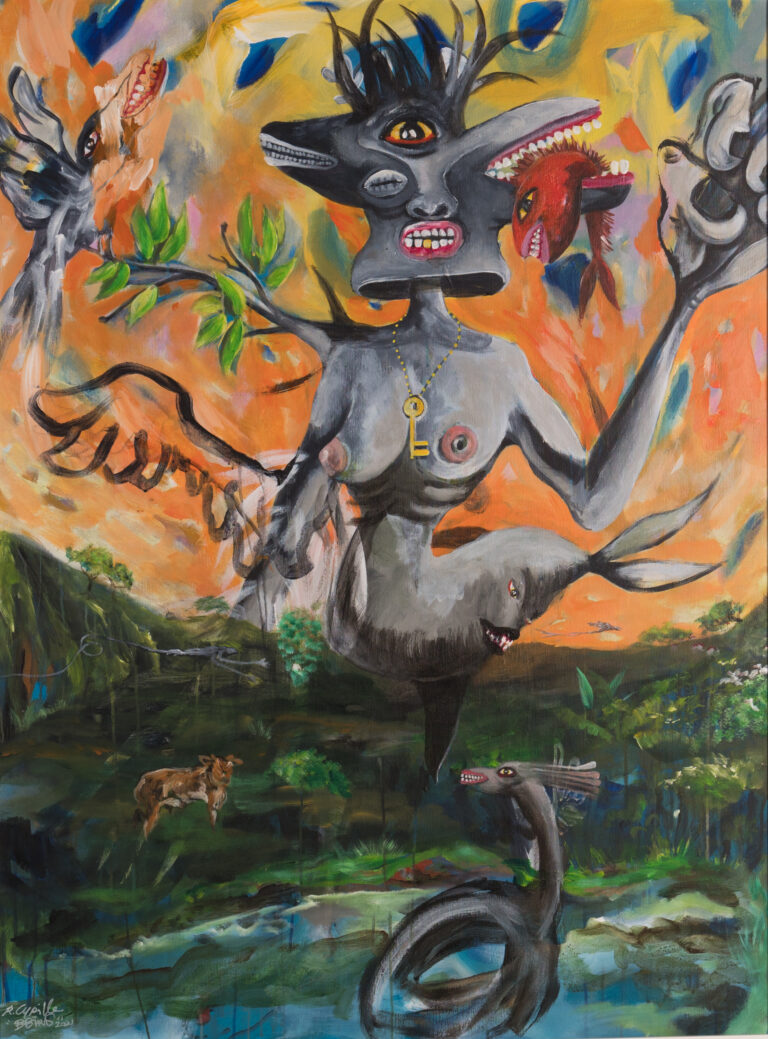 Ronald Cyrille. Sacred Feminine, 2021. Acrylic on canvas. 51 x 38 inches. Image courtesy the artist

CT: The notion of Paradise may seem paradoxical in the Caribbean, at least for Caribbean people given the colonial history from which it stems. To come back to the Creole dog, doesn't it also refer to slavery? This is how the dog has always been (re)presented to me by my father, born in 1930, a man of your grandparents' generation, perhaps. He always said "neg pa aimé chyen" (negro doesn't like dogs) or was it "chyen pa aimé nèg" (dogs don't like negroes)? I should check, because the expression "to set the dogs on negroes" under slavery was used to describe both a form of entertainment and the way masters chased runaway slaves. Steve McQueen has a riveting scene depicting this saying in his film Twelve Years a Slave (2013). How do you relate to the memory of slavery, how do its traces appear in your characters and landscapes? 
RC: The trauma of slavery is real and casts a dark shadow. The chyen kréyol is an emblematic and generally paradoxical figure, particularly in my paintings. My characters aren't predetermined by positions, gestures, or personality traits linked to a common figure or idea. They take shape progressively in my imagination. The chyen kréyol, the rooster, and also the bee and the fish reappear often. Together they form my bestiary. Sometimes, they come irresistibly to mind to claim their place in the story. If we push this idea further, you see that from canvas to canvas there is a pictorial narrative of everyday life, social conditions, reminders of history. The characters that form my bestiary, as well as the symbols I use—including the key, the electrical socket, sharp teeth, the sun that smiles and grimaces by turns—all of these can be read differently depending on the story I am telling. In the same way, I treat the memory of slavery personally, progressively, as force that drives us to define a better future. The quest for freedom comes up often in my work, echoing the abolition of these moral enclaves. 
CT: If you had to submit a project for a slavery memorial—such as the one that the French President recently launched—what would you propose? Would you respond at all? Do you think that slavery has been described, represented, and accepted in Guadeloupe, in the Antilles, and in France in a constructive way? This is a huge question, certainly, but I wonder how the fact that your studio was located at MACTe has influenced you or your practice over the course of your residency?  
RC: I don't draw on slavery but rather on the energy of my Afro-Caribbean culture, which, to cite Édouard Glissant's notion of the rhizome, is the sum of countless references. I recognize my African heritage in Aimé Césaire's reflection on memory beyond memory, but I identify as Caribbean. As far as the MACTe is concerned, it's hard to ignore the history of the institution—but Guadeloupe itself is full of this energy stemming from its past. 
I saw the open call for projects to commemorate the abolition of slavery. The idea of ​​locking up a work of art or bolting it into place, even in the Jardin des Tuileries, seems like nonsense to me. I preferred to focus on other projects. I also question the state's action to commemorate the abolition of slavery, particularly with this open call. In my opinion, we should deconstruct models rather than engaging in this type of initiative. Would it not be better to restore the humanity of the Black man as a man, quite simply, through his representation in the public space and integration into institutions, or through his presence as a representative of the State, both in metropolitan France and in the French Overseas Territories, as well as in legal documents? Such reform would dismantle a commonly held perception of the Black man, one that sees him relentlessly through that part of his history. The Black man has not only been a slave: it is time to dissociate him from its image without forgetting this part of him. He should be given justice through moral reparations, but he should also be returned to the heart of his true story and spirituality.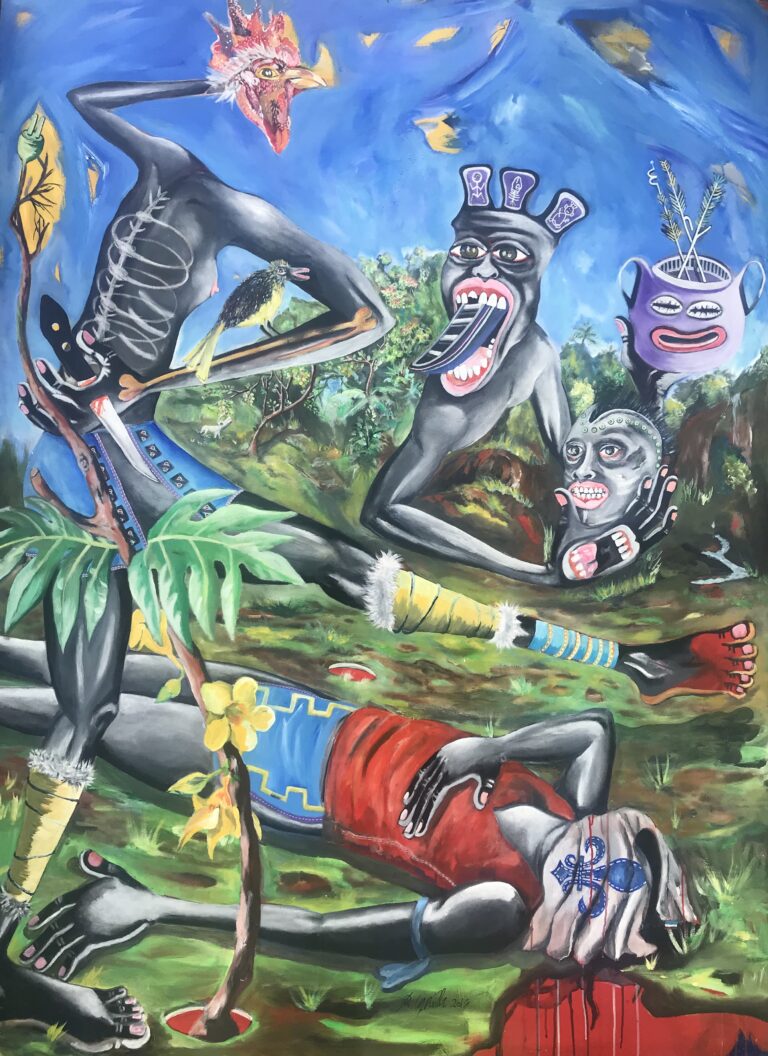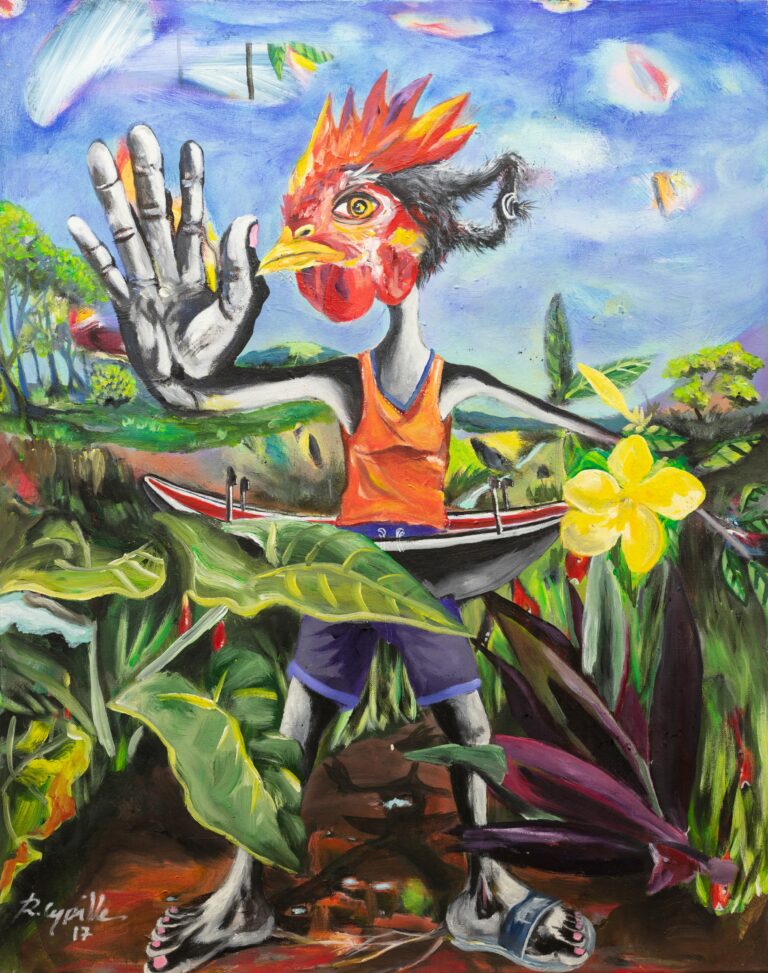 Ronald Cyrille. Tribute, 2016. Acrylic on canvas. 78 x 57 inches. Image courtesy the artist 
Ronald Cyrille. Let Me Fly, 2017. Mixed media on canvas. 51 x 29 inches. Image courtesy the artist 
CT: The merit in this dawning national awareness lies in the law recognizing slavery as a crime against humanity passed by Christiane Taubira. Without her initiative, the President's actions, whatever one thinks of them, would not even have been conceivable. As for the history of slavery, this is where the English language (and American and British contemporary critique of the history of slavery) gives us a better appreciation of the fact that slavery was a temporary condition that Africans were subjected to by using the word "enslaved" rather than "slave." We could also address the issue of reparations, which you refer to as moral compensation, but that's a big topic. Let's leave it at that.  
To return to the subject of your bestiary, the rooster is one of the fierce animals haunting both your paintings and your murals. S/he is represented by strange zoomorphic figures imbued with an unsettling magical realism that speaks more to the realm of nightmares than to dreams. The rooster-headed male figure in Tribute (2016) and Let me Fly (2017) makes me think of cockfighting—have you ever been to a cockfight? I haven't, and they are now illegal in Guadeloupe, right? The cock becomes feminine in your more recent paintings from this year—produced during your residency at MACTe—such as Sacred Feminine (2021) and Honey Kiss Lover (2021)—yet without becoming a hen! The cock acts as a mere witness to human folly in several other paintings. If men are indeed beasts, then your bestiary tells fables rather than stories because they possess a moral dimension. Can morality and spirituality go hand in hand? 
CR: In a general sense, the rooster symbolizes time in the West Indies and in the Caribbean because he crows at dawn and sleeps at sunset. It is a rhythm that paces our islands. I see the rooster every day in the courtyard. He also symbolizes strength and virility.  
Yes, I have participated in cockfights, even in my own courtyard (laughs). But my work doesn't necessarily refer to cockfighting pits. In certain works of mine, I play with composition in such a way that I fool viewers by letting them believe that the rooster is a character's head. The rooster is a symbol of freedom proper to some personalities, and so I take the liberty of placing this symbol at the end of an arm or on top of a neck. In Let me Fly the rooster appears more urbane, nevertheless he is determined to maintain his freedom. B. Bird raconte-nous une histoire (B. Bird Tells Us His Story, 2021) features a character in movement who appears to want to escape reality by seeking refuge in the heart of nature. Entangled in his canoe, wearing a traditional plastic mika (sandal) on one foot and a cut-off rubber boot on the other, he is greeted by the rooster. The latter is surprised by the frenzy of the man's excursion. He bears the message to reconnect with the natural world. The rooster is never simply an observer. He is there to recall this quest for freedom as well as the strength and power with which we are inhabited but which we often forget we possess.  
If my work could be said to possess a moral dimension, it is not intentional. Rather it manifests the desire to be inspired by and to question society through artistic practice. Everything can be transcended and sublimated through art, which allows us to reinvent ourselves. The reflection involved in this process should lead the viewer to be self-critical about the meaning of respect and tolerance, and to consider anew the richness and diversity of cultures. The aim is to value Black culture. The fable, in fact, is a moral story. My work is closer to West Indian tales, with their anthropomorphic animals or mofwozman. Caribbean imagery thereby enters into dialogue with my own personal mythology. In my opinion, it can all coexist. My artistic practice articulates the forces that undermine me, but also those that drive me, including the paradoxes that nourish my thought process. Contrasts allow me to highlight, to question, but also to create a space of tolerance and leave room for everyone's freedom, allowing everything to (co)exist.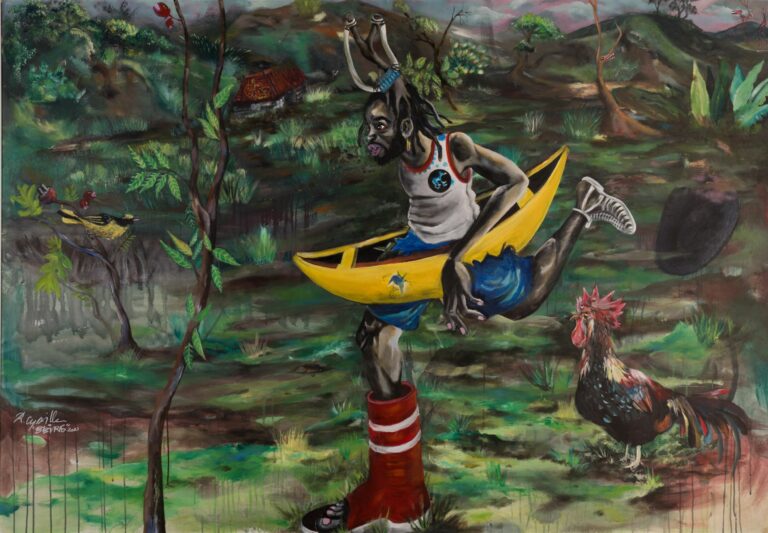 Ronald Cyrille. B.Bird raconte-nous une histoire, 2021. Acrylic on canvas. 55 x 78 inches. Image courtesy the artist 
CT: Indeed. You are not moralizing, especially not on subjects that still cause a lot of angst in France, such as anything to do with colonization, for example. You strike a derisive tone instead, as can be read in the punning title Colon nid (Colonizer's Nest, 2017) which is a play on words that refers to the ways in which colonizers and their descendants benefited economically from the extraction of both human and natural resources from the Caribbean, a fate diametrically opposed to the fate of those descended from slaves. You suggest that, in view of the material extracted from our fertile land, the richness of the Caribbean lay elsewhere … Only our luxurious forest landscapes seem to have been spared from torment, although we also know that they are tormented now by pollution. In your paintings, we flee, we kill each other, we degrade ourselves and we do so to an extreme degree. Are we firmly anchored to our islands? In what kind of anchoring do your paintings participate?  
RC: The Caribbean's wealth was exploited for economic gain in sectors such as sugarcane, coffee, cotton, and tobacco. But today, the Caribbean continues to be exploited for its biodiversity, its climate, landscapes, and the cultural richness that is due to the diversity of its population. We are firmly anchored in our islands but not yet sufficiently autonomous, nor do we participate enough in decision-making. Beyond the postcard-perfect image, which projects the fantasy that we live in a paradise conducive to daydreaming, relaxation and idleness, we actually face persistent inequalities and socioeconomic challenges.  
My stories occasionally depict violence—characters that kill each other or disintegrate or even flee. This violence refers to a reality that these characters would like to displace, as well as to the freedom they would like to reclaim. The message in my work often involves acts of redress. This violence is also due to new technologies, which make it possible to disseminate information quickly throughout the world. But other times the characters kiss, embrace, show kindness, or smile at each other—it's all part of life.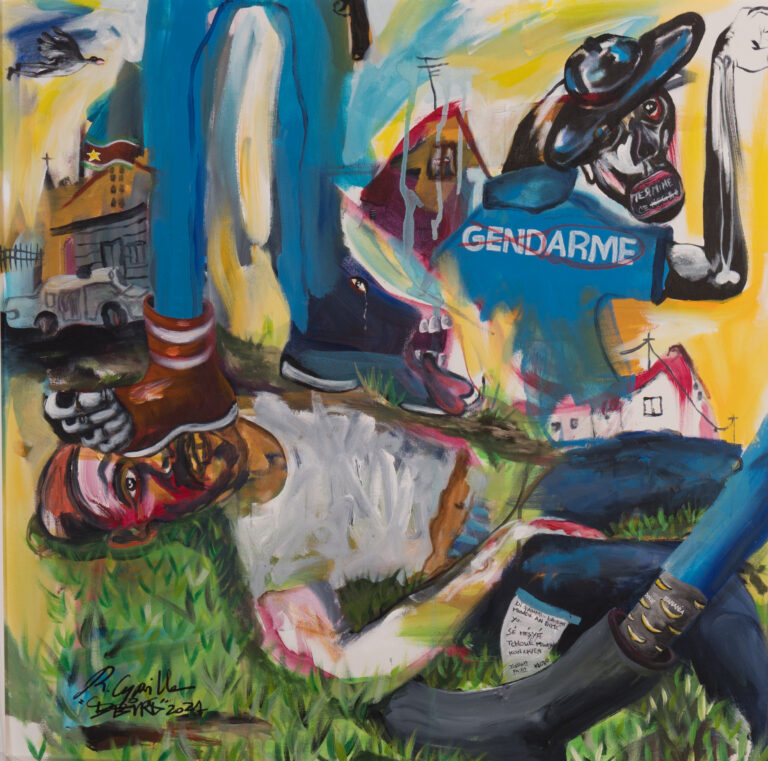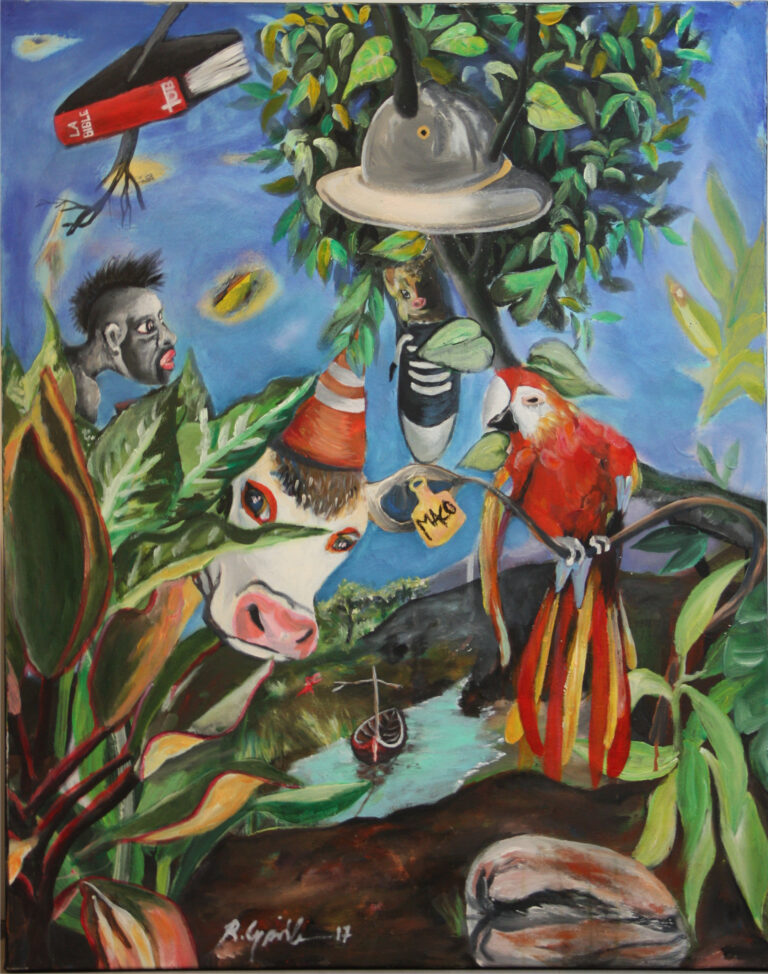 Ronald Cyrille. Justice for Klodo, 2021. Acrylic on canvas. 39 x 39 inches. Image courtesy the artist 
Ronald Cyrille. Colon Nid (Colonizer's Nest), 2017. Acrylic on canvas. 39 x 31 inches. Image courtesy the artist 
My work contributes to the deconstruction of structures derived from the legacy of slavery, from trauma, from issues related to identity, as well as to our relationship with the land, Africa, and our cultural and spiritual heritage. My approach to figuration surprised people in Guadeloupe at first, because it did not conform to classical representations or to the dominant models. Rather, it deconstructs then reconstructs through the appropriation of a common Caribbean identity. Indirectly, it helps create a link with the civilizations that came before us in Guadeloupe, such as the Taínos and Kalinagos, while also maintaining a dialogue with Africa. This anchoring resonates with Édouard Glissant's idea that the Caribbean could be the "Every-World," a laboratory of multiple identities or of the creolization of the world. 
CT: Or with Malcolm Ferdinand's idea of the "world-ship" that I mentioned at the beginning of our conversation. You neither avoid nor shrug off slavery and colonization, but clearly you don't want your "world-ship" to run aground on either. By persisting in your singular journey, eschewing stereotypes and trading in imaginary worlds, your work takes its place in the lineage of Caribbean art, a place that also falls squarely in a tradition of Guadeloupean aesthetics. Anthologie de la Peinture en Guadeloupe (2009) was published ten years ago. Are you familiar with this book? Who did you study with? I am thinking about Philibert Yrius' astonishing work. His style is very different from yours, but his imagination is also grounded in Caribbean fantasy. Or maybe you don't recognize yourself in this genealogy, you who prefer to talk about genesis? 
RC: Yes, I know the book. I first discovered it upon my return from Campus Caribéen des Arts de Martinique. Who knows, perhaps someday my paintings will be included in a publication like that, one which acknowledges cultural actors in Guadeloupe, recognizing them. I know Philibert Yrius' work and other work by my peers, and it does not leave me indifferent. In terms of Yrius's painting, I know what you mean—he is in a universe onto himself, with his own colors. It is true that people tell me about his painting when they see mine; not that they are similar, but there might be a form of common strangeness between us, and both our narratives take place in nature. 
I don't have a teacher to speak of (laughs). I have references that come from elsewhere such as Wifredo Lam, Jean-Michel Basquiat, Kerry James Marshall, Manuel Mendive, but also Jean Dubuffet and Gérard Garouste.  
The genesis of my universe, in the "genetic" sense of my practice, arises from melancholic childhood memories but also from themes raised by the chyen kréyol's physical and pictorial wandering, his vagrancy. This errancy creates an alphabet of shapes, symbols, a bestiary that includes animals from my land (besides the chyen kréyol we also find the bird, the fish, the bee, the rooster, the spider, or the lizard) that nourish the narrative structure from work to another. I often use metamorphosis to give my characters the freedom to move or "mofwazé" (change) when and how they wish, depending on the narrative circumstances. My culture, along with the stories and imagery of the Creole language, both contribute to and influence my practice. Rap music, dancehall, hip-hop, but also soul and jazz also influence me.  
So, I don't necessarily pit genealogy against genesis. To be part of a structure (a family tree) or to be affiliated because of a category or field of study does not exclude one from having a different essential identity, which can vary depending on each person's sensibility, motivations, and geographical situation. But the influence of reference isn't excluded either. In fact, most of my references come from the Caribbean Basin. Visual art's family tree is not limited to Guadeloupe, seeing as we share a history with neighboring islands. Studying in Martinique allowed me to meet other artists from the Caribbean. Then my international travels put me in touch with artists who belong to the Caribbean diaspora. I identify as Caribbean and I navigate between multiple cultures. I believe that the strength of the Caribbean people lies precisely in the fact that they are in dialogue with the rest of the world.  
CT: Ronald, thank you for this beautiful synthesis of our exchange. I have thoroughly enjoyed our layover (escale) and know that we will meet again soon (à bon port), either in Pointe-à-Pitre, Roseau, Fort-de-France, Miami, New York, Paris, or somewhere else—wherever your "world-ship" takes us. Mèsi en pil (to borrow from Haitian Creole).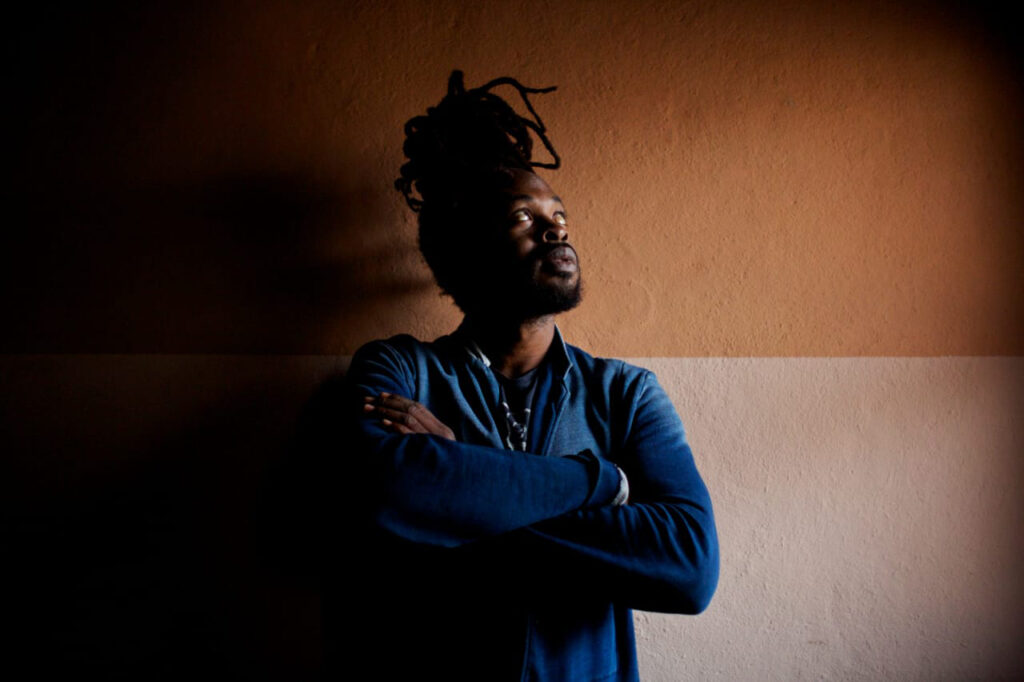 Ronald Cyrille, alias Black Bird, was the recipient of the 2020 CCI Artist Fellowship at the Pérez Art Museum Miami, in collaboration with Mémorial ACTe in Guadeloupe. An artist of Guadeloupean and Dominican heritage, Cyrille studied visual arts at the Caribbean Arts Campus (Campus Caribéens des Arts) in Fort-de-France, Martinique. His work has been presented in solo exhibitions at prestigious venues including the Volta Art Fair, New York; Rémy Niansouta Cultural Center, Pointe–à–Pitre, Guadeloupe; the Clément Foundation, and Atrium, both in Fort-de-France, Martinique. Cyrille has participated in group exhibitions at Hunter East Harlem Galleries, New York; the Little Haiti Cultural Center, Miami; and Tout-Monde Festival, Miami, among others. Most recently, Cyrille participated in the Atlantic World Art Fair 2021, and created a mural at the 516 Arts Museum in Albuquerque, New Mexico for the traveling exhibition Dust Specks in the Sea: Contemporary Sculpture from the French Caribbean & Haiti. 
Entre fables et contes : à bord du navire-monde de Ronald Cyrille on ti kozé èvè Claire Tancons
Cet entretien s'inscrit dans le cadre de notre conversation au long cours avec Ronald Cyrille, initiée à l'occasion du Festival Tout-Monde à Miami en Mars 2018 et poursuivie par une visite virtuelle le 9 Décembre 2020 dans son atelier du Mémorial ACTe (MACTe) en Guadeloupe, dans le cadre de sa résidence (Novembre 2020—Mars 2021) au Caribbean Cultural Institute du Pérez Art Museum Miami. Elle continue alors même que Ronald prépare son exposition Génésis : mythologies individuelles. 
Tous deux originaires de la Guadeloupe, où nous sommes nés à la fin des années 70 pour moi et au milieu des années 80 pour Ronald, qui a par ailleurs aussi grandi à la Dominique, il n'est peut-être pas anodin que ce soit Miami, capitale américaine de la Caraïbe, qui nous offre l'occasion de nos rencontres. Loin des conflits politiques et économiques endémiques à ces anciennes colonies françaises et anglaises que furent la Guadeloupe et la Dominique, Miami, dotée d'une infrastructure culturelle sans pareil dans la Caraïbe et douée de la capacité à reconnaître les filiations de sa production artistique, offre un relais inter-Caribéen et restaure une vision globale de la Caraïbe. 
Frenchman à la Dominique et Dominiquais en Guadeloupe, Ronald Cyrille est à la fois produit et producteur de cette vision globale de la Caraïbe à travers une œuvre naviguant sur les eaux de l'enfance et de la mémoire, de la mythologie et du folklore, traversée par les courants de l'intime et du monde. Au-delà du cabotage entre les côtes Guadeloupéennes et Dominiquaises, dont on sait combien il fut coutumier des premiers peuples de ces îles avant le débarquement de Christophe Colomb en 1493, c'est à bord d'un navire-monde, loin de la caravelle du conquistador, du bateau négrier ou de l'arche de Noé, que nous embarque le conteur-peintre caribéen contemporain qu'est Ronald Cyrille.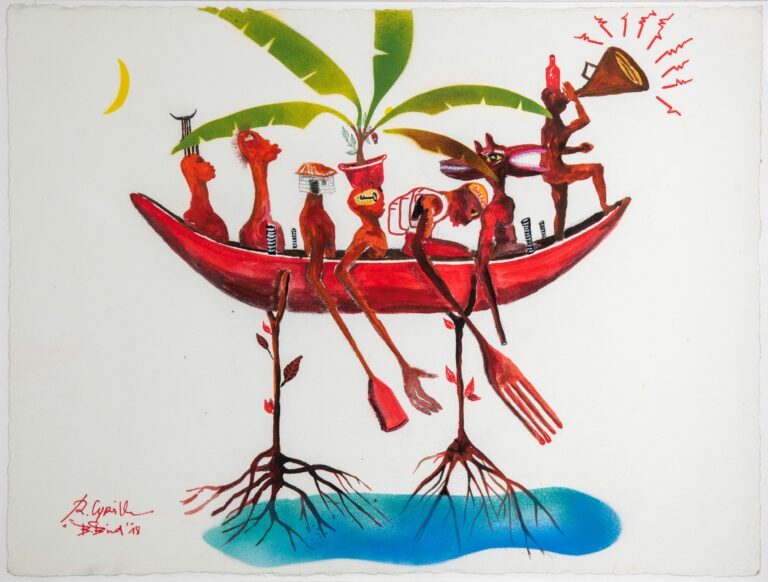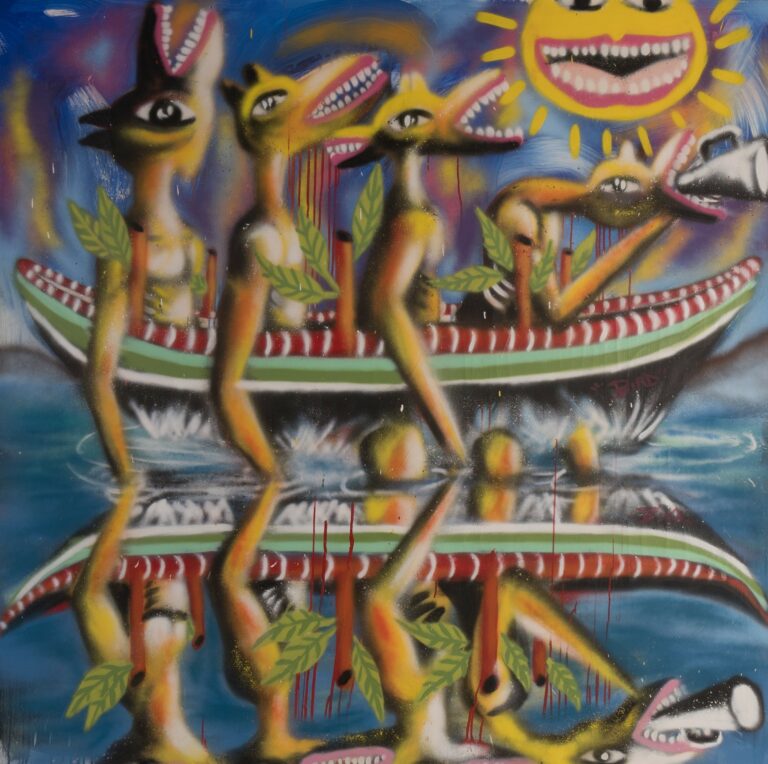 Ronald Cyrille. Key Escape, 2018. Technique mixte sur papier. 57 x 77 cm. Image courtoisie de l'artiste 
Ronald Cyrille. Echos, 2018. Technique mixte sur toile. 191 x 187 cm. Image courtoisie de l'artiste 
Claire Tancons (CT): Une modeste embarcation, simple pirogue de passeur ou canot de pêcheur, ressemblant au gommier traditionnel (gomyé en créole), taillé dans le bois de l'arbre du même nom, est un motif récurrent dans ton travail. Je le vois tracer un long sillage allant de tes réminiscences d'enfance à la Dominique avec ton grand-père pêcheur, à une forme d'éthique créole préfiguratrice de ce que le chercheur Martiniquais Malcolm Ferdinand a appelé le navire-monde dans Une écologie décoloniale (2019), fondement de la mise en relation à l'autre, propice à une politique de la rencontre. Comment situes-tu ce motif de l'embarcation dans ton travail, dans cette poétique de la relation qu'il sous-tend – pour emprunter cette fois-ci au poète Martiniquais Édouard Glissant – et comment te situes-tu toi-même dans cette éthique du navire-monde en tant qu'artiste, toi qui te figures souvent en son centre ? 
Ronald Cyrille (RC): Comme on peut le voir dans "Key Escape" (2018), dans "Echos" (2018), ma démarche artistique pourrait être comparée à un bateau chargé de la nostalgie des souvenirs, mais aussi de la douceur des rencontres heureuses, parfois balloté par le flux des vagues, d'autres fois emporté par les marées violentes qui me contraignent à l'errance. La Caraïbe échange avec le monde à travers mes travaux, le bateau devient un outil de communication, un moyen qui relie et met en dialogue les cultures. Chacun de mes travaux restitue ce voyage continuel, au creux de ma mémoire, nourrissant le vagabondage de ma création au fil des toiles. On y retrouve une forme de narration, unissant mon passé à mon présent, combinant la mélancolie à l'euphorie, liant la résilience à la protestation, soulignant non pas le paradoxe mais plutôt l'établissement d'un équilibre. Il s'agit d'un univers obsessionnel et symbolique où le conventionnel n'a pas sa place. Je me permets ainsi de déplacer à ma guise les formes et les objets dans l'imaginaire magico-religieux et l'imagerie de la langue créole—renvoi à un ailleurs sacré ou profane. 
CT : Cette dimension spirituelle de ton travail est en effet tout aussi saisissante qu'insaisissable tout comme dans la culture caribéenne : à la fois omniprésente et évanescente. De façon plus immédiate et concrète, cette embarcation fait lien entre tes identités guadeloupéenne et dominiquaise, que tu tiens toujours à distinguer, tout en les replaçant dans le contexte d'une Caraïbe globale. Tu sembles exprimer cette dualité tenace et la fusion salvatrice qui en résulte parfois, par des portraits doubles et des figures de dédoublement qui elles-mêmes puisent dans la tradition créole. Peux-tu nous en dire plus sur l'emprise de l'une et l'autre de tes identités iliennes, si proches géographiquement et culturellement, et si distinctes et singulières à la fois pour l'artiste que tu es devenu ? 
Ronald Cyrille. Génésis 1 et 2, 2021. Papier découpé technique mixte. 70 x 50 cm. Image courtoisie de l'artiste 
RC : Ma double culture est en effet représentée dans mon travail par des personnages bicéphales, tels que dans Genesis 1 et 2 qui symbolisent les traditions, les mythes et la spiritualité qui me sont aussi communs qu'ils le sont à nos territoires. Les paysages riches et verdoyants de la Dominique qui m'ont vu grandir, se retrouvent dans ma création.  C'est là l'héritage de mes origines profondément ancrées en moi. La proximité de ma famille et le rapport qu'elle entretient avec la nature ont fondé un lien et une attention particulière à celle-ci. Arrivé en Guadeloupe, au cœur de la ville, j'ai été influencé par ma vie de citadin : la frénésie de l'activité qui s'y trouve, la promiscuité avec les autres et les opportunités qu'offre l'urbanité. Les murs nus de la ville, offrent des supports de création aussi nombreux que vastes. Je n'ai donc pas fait de choix ! J'ai concilié mes identités multiples qui finalement n'ont pas à être dissociées puisqu'elles sont complémentaires et participent toutes deux de ce que je suis…un Antillais !  
CT : Le bateau reliant la Guadeloupe et la Martinique c'est aussi le bateau du migrant – notamment du migrant dominiquais s'exilant en Guadeloupe pour chercher de meilleures opportunités économiques. De cela tu ne traites pas directement dans ton travail. Mais tu perpétues le thème de l'errance dont cette migration participe, cette sensation d'être toujours entre deux eaux, de devoir naviguer à vue. Comment donnes-tu à voir cette errance, au delà du motif littéral de l'embarcation ? 
RC : C'est aussi une mythologie personnelle animée par des figures récurrentes tels que le chien qui est une manière de symboliser l'errance et le vagabondage. En effet sur nos territoires, nombreux sont les chiens abandonnés. Ils sont vulgairement appelés « chyen kréyol ». Leurs réactions parfois inattendues font d'eux un animal à la fois aimé et redouté. C'est avec la figure du chien créole avec ce museau long que j'aborde la question, il devient un personnage qui s'impose dans mes toiles évoluant sans cesse. Le chien peut aussi renvoyer à l'homme dans ses postures et dans le rôle qu'il occupe dans la scène qui se déroule. C'est un personnage emblématique dans ma peinture comme sur nos territoires. L'oiseau représenté dans mes travaux est porteur d'histoires, de récits, de témoignages, plus ou moins joyeux, parfois tragiques. Il vient atténuer ce sentiment de déracinement, grâce à sa capacité à traverser les territoires. Il est aussi porteur d'un message qui demande parfois à être déchiffré. L'eau représente la pureté, la renaissance mais elle est aussi synonyme d'immensité et d'absorption. Enfin le bateau est représentatif des questionnements sur l'exode, des migrations dans l'histoire de nos sociétés contemporaines. L'errance et le vagabondage sont des thèmes qui animent mes créations.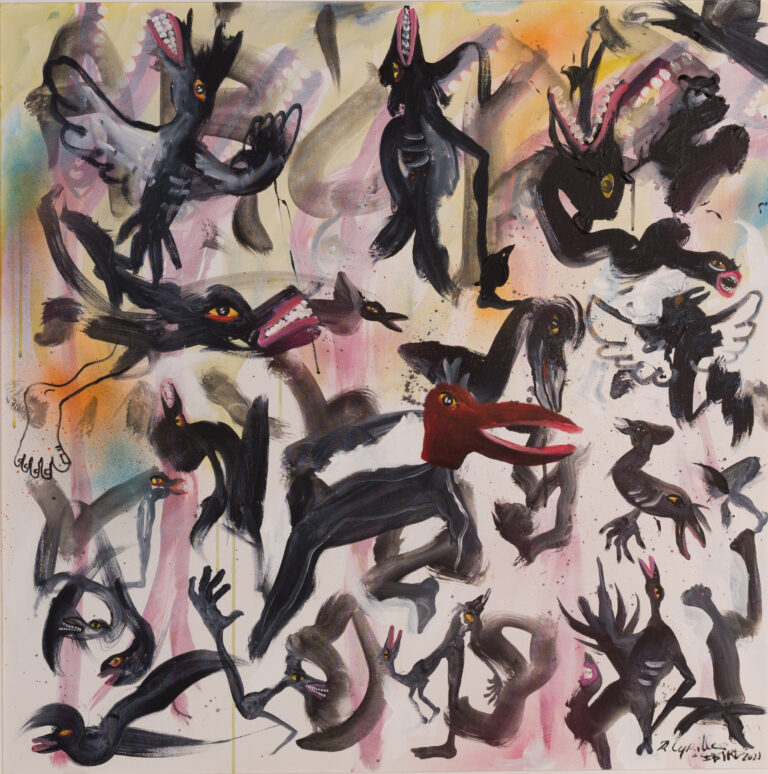 Ronald Cyrille. Abécédaire, 2021. Acrylique sur toile. 100 x 100 cm. Image courtoisie de l'artiste 
CT : Loin de te contenter d'illustrer les contes du riche imaginaire et imagier créoles dont tu t'inspires, tu crées toi-même de nouveaux contes, allant et venant d'une mythologie caribéenne commune à une mythologie artistique personnelle. Tes frasques picturales m'évoque la verve littéraire de Simon Schwarz-Bart dans Un plat de porc aux bananes vertes (1967) ou Pluie et vent sur Télumée Miracle (1972). Comment facilites-tu ces relais et quels sont les modalités de passage que tu opères, notamment par les différents mediums que tu empruntes ou inventes ? 
RC : C'est l'autre forme d'errance et de vagabondage dans mon travail : le vagabondage pictural, par le déplacement des personnages au fil des toiles et de la narration qui se crée. Je laisse libre cours aux histoires que mon bestiaire forme. Ce vagabondage est aussi formel entre les travaux d'atelier et les travaux de rue, entre figuration et abstraction. J'ai envie parfois de tendre vers une forme d'abstraction, de lâcher prise dans la gestuelle et dans la forme et à d'autre moment, j'ai envie d'étudier un objet, un visage, une présence, un souvenir sous un autre aspect. Il y a une forme de lutte entre les canons des références face à ceux que je souhaite déconstruire et déstructurer avant de les présenter sous de nouvelles formes. C'est donc une sorte de synthèse de rencontres entre deux postures que j'adopte dans ma pratique. C'est pour moi une manière de matérialiser ma double culture, mon double héritage, comme si je prenais pleinement conscience que je suis ce deux en un.  Ouvert sur le monde et riche de mes cultures, mon envie de voyager avec ma peinture hors de nos espaces est toujours un nouveau défi. Peut-être la matérialisation de la créolisation. 
CT : À la thématique maritime de l'errance et de la migration, du lien et du passage, s'ajoute celle de la terre et du monde végétal et animal, ce que tu nommes le Green Paradise Lost, et ton bestiaire. Pour moi, et plus généralement dans la réalité organique de la terre, et dans l'imaginaire touristique sur les Iles de la Caraïbe, le Green Paradise, c'est la Dominique, qui m'a toujours semblé être ce que la Guadeloupe avait dû être il y a 50 ans. Finalement, à quoi fait référence ce Green Paradise Lost ? 
RC : Le Green Paradise Lost sont des paysages imaginaires qui renvoient à une recherche de sérénité. Là aussi, je cherche à saisir l'insaisissable dans la beauté et la force de la nature, source intarissable. La nature fut d'ailleurs mon premier maître. C'est l'endroit où j'ai étudié les formes, les plans, les couleurs, les contrastes. C'est le lieu de tous les possibles. L'urbanisation faisant disparaître progressivement la nature, c'est donc pour moi une manière d'entretenir ces souvenirs de lieux que je ne reverrai plus. Pour moi, ce Paradise symbolise la vie et l'espoir d'un renouveau sous toutes ces formes. Les ballades à l'arrière des camionnettes, quand j'étais enfant, à la Dominique, me donnaient à voir comme seul et magnifique spectacle la nature, ses reliefs, ses couleurs, le vent soufflant dans mes oreilles, sans autre contrainte visuelle que le soleil qui pouvait parfois m'éblouir. Ces souvenirs sont ancrés dans ma mémoire, et me rappellent la liberté que je ressentais pendant ces ballade. Ce sentiment est en opposition avec l'urbanité de la ville dans laquelle j'ai accosté en Guadeloupe, avec ses paysages aux reliefs plats, tout aussi beaux mais parfois métamorphosés par les chantiers qui creusent la terre et abattent la végétation et les grues qui remplacent les arbres. C'est ce qui a fait surgir en moi la nostalgie de ce Green Paradise Lost.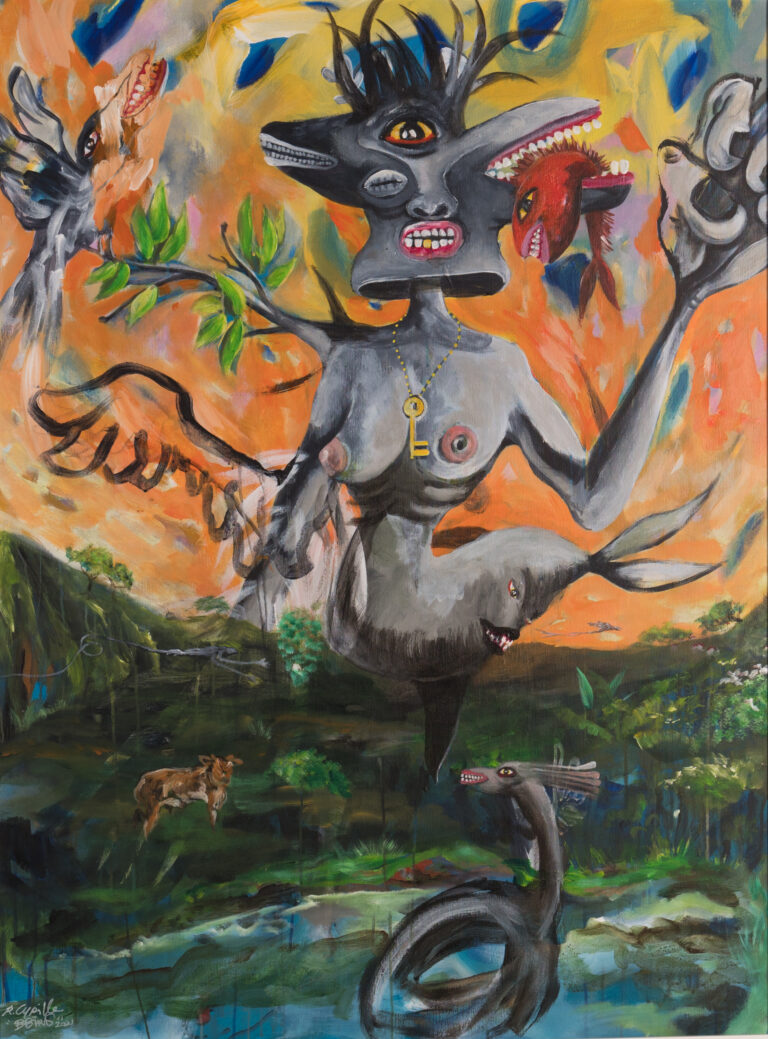 Ronald Cyrille. Sacred feminine, 2021. Acrylique sur toile. 130 x 97 cm. Image courtoisie de l'artiste 
CT : La notion de Paradis peut sembler paradoxale aux Antilles, pour les Antillais en tous cas. Pour en revenir au chien créole que nous évoquions précédemment, ne renvoit-il pas aussi à l'an tan lontan de l'esclavage ? C'est ainsi que le chien m'a toujours été (re)-présenté par mon père, homme (né en 1930) de la génération de tes grands-parents peut-être. Il disait toujours « neg pa aimé chyen » – ou est-ce le contraire « chyen pa aimé nèg » ? – il faudrait vérifier, car « on lâchait les chiens sur les nègres » au temps de l'esclavage par divertissement sur la plantation, mais aussi dans la course poursuite du maître et du marron…On voit d'ailleurs des représentations de ce proverbe qui recouvre ce qui fut une réalité dans le film de Steve Mc Queen, « Twelve Years a Slave » (2013). Quel rapport entretiens-tu à la mémoire de l'esclavage, comment ses traces se donnent-elles à voir dans tes personnages et paysages ? 
RC : Il est vrai que ce traumatisme existe et laisse place au malaise. Le chyen kréyol est une figure emblématique et paradoxale de manière générale et encore plus dans ma peinture. Le caractère de mes personnages n'est pas prédéfini dans des positions, des postures, des traits de personnalité liés à une figure ou à une pensée commune. Ils naissent lors du processus de création et prennent forme dans mon imaginaire de manière progressive. Le chyen kréyol, le coq, mais aussi l'abeille ou le poisson, reviennent souvent dans mes peintures. Ils composent mon bestiaire et par moment s'imposent à moi et revendiquent leur place au sein de la narration. Si on souhaite pousser la réflexion et que l'on considère que la narration au fil des toiles rapporte des histoires de nos quotidiens, des faits de société ou des rappels historiques, alors on comprend que les personnages qui composent mon bestiaire, tout comme les symboles que j'utilise tels que la clé, la prise électrique, les dents acérées, le soleil parfois souriant, parfois grimaçant peuvent changer de sens selon l'histoire que je raconte. Je traite pareillement de la mémoire de l'esclavage de manière personnelle et progressiste, comme un passé moteur pour définir un meilleur avenir. La quête de la liberté revient souvent dans mes travaux et fait écho à l'abolition de ces enclavements moraux. 
CT : Si tu devais répondre à la dernière tentative de commission d'un monument pour la mémoire de l'esclavage, comme le Président de la République française s'essaie à le faire, qu'imaginerais-tu ? Et y répondrais-tu tout simplement ? Penses-tu que l'esclavage est désormais raconté, représenté et accepté de façon constructive en Guadeloupe, dans les Antilles et en France ? C'est une vaste question, certes (!) mais en quoi est-ce que le MACTe, au sein duquel était situé  ton atelier, a-t-il pu t'influencer ou faire infléchir ton état de création durant ta résidence ? 
RC : Je ne puise pas dans l'esclavage mais plutôt dans l'énergie de ma culture d'afro-descendant et de Caribéen, culture qui est une somme de multitudes de références, pour reprendre l'idée du rhizome d'Édouard Glissant. Je reconnais par ailleurs mon héritage africain dans la pensée d'Aimé Césaire sur la mémoire au-delà de la mémoire, mais je me définis comme Caribéen. Concernant le MACTe, il est difficile d'ignorer l'histoire de ce lieu – mais la Guadeloupe en elle-même est un lieu chargé de cette énergie née de son histoire.  
J'ai vu l'appel à projet pour la commémoration de l'abolition de l'esclavage. L'idée d'enfermer ou de boulonner une œuvre dans un lieu et ce, même dans le Jardin des Tuileries, me semble être un non-sens. J'ai donc préféré m'atteler à d'autres projets. Je m'interroge sur l'action de l'État sur la commémoration de l'abolition de l'esclavage, notamment avec cet appel à projet. À mon sens il faudrait, plutôt que de s'engager dans ce type de projets, déconstruire des schémas. Ne vaudrait-il pas mieux restaurer la considération de l'homme noir en tant qu'homme tout simplement, en intégrant sa représentation dans l'espace public, mais aussi dans les institutions, en faisant valoir sa présence auprès des représentants de l'État et des DOM-TOM et dans les textes de lois. Ceci réformerait d'avantage la pensée commune qui le lie de manière incessante à cette partie de son histoire. L'homme noir n'a pas seulement été esclave : il est temps de le dissocier de cette image sans pour autant oublier cette part de lui. Il faudrait à la fois lui rendre justice par un dédommagement moral mais aussi le remettre au cœur de sa véritable histoire et de sa spiritualité.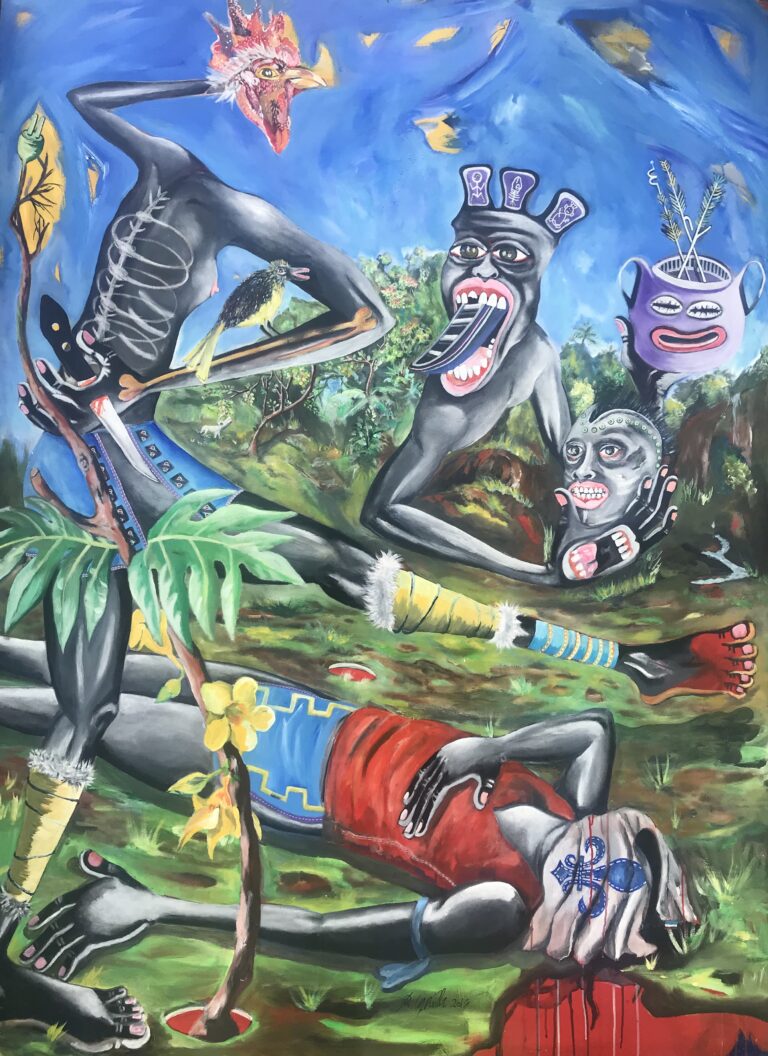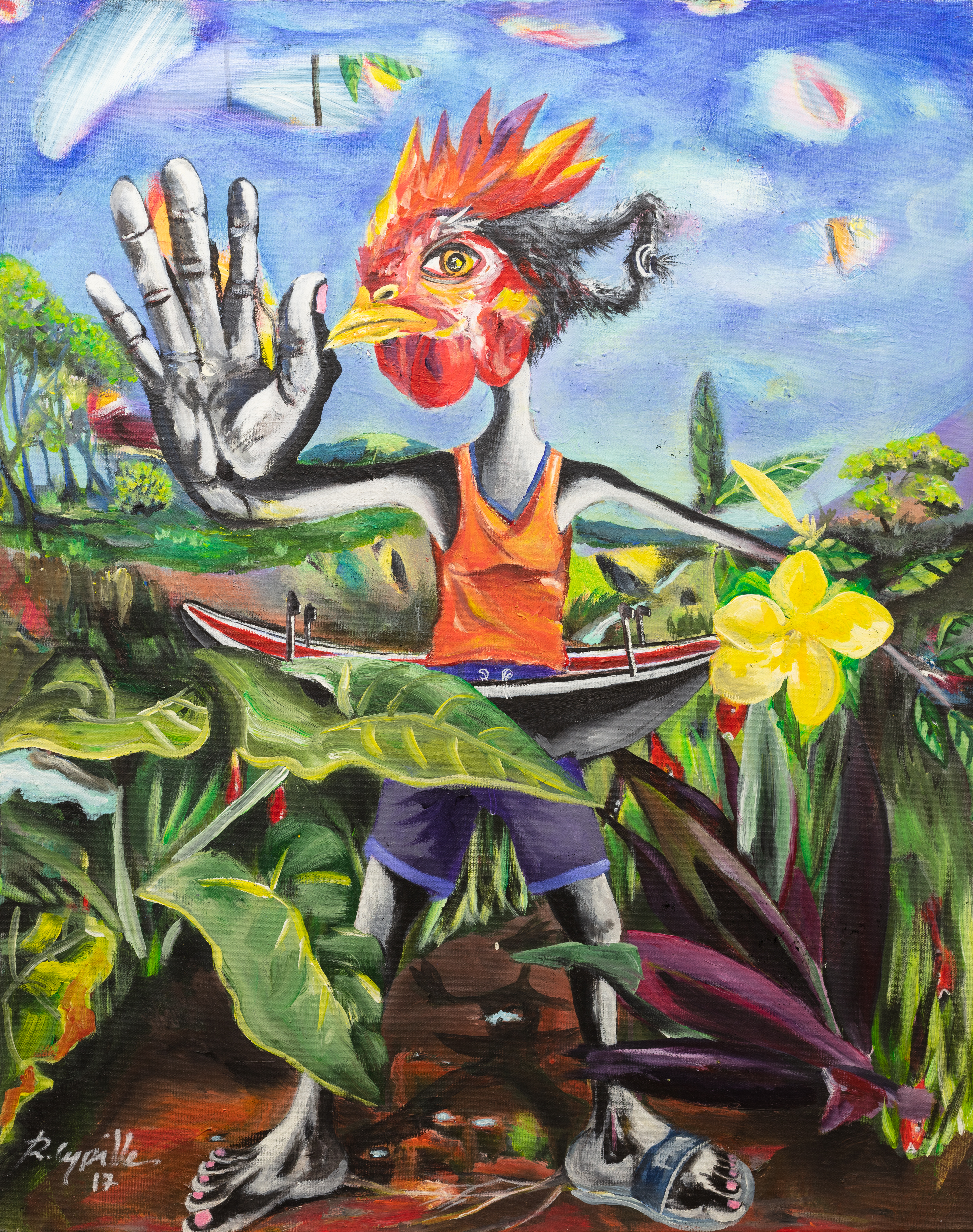 Ronald Cyrille. Tribute, 2016. Acrylique sur toile. 200 x 145 cm. Image courtoisie de l'artiste 
Ronald Cyrille. Let Me Fly, 2017. Technique mixte sur toile. 92 x 73 cm. Image courtoisie de l'artiste 
CT : Ce qui est méritoire dans cette nouvelle prise de conscience nationale, c'est la Loi pour la reconnaissance de l'esclavage comme crime contre l'Humanité, portée par Christiane Taubira, sans laquelle ces actions presidentielles, quoi qu'on en pense, ne seraient même pas envisagées. Pour ce qui est de la representation du passé esclave du Noir, l'Anglais nous permet une meilleure appréciation de la condition temporaire de mise en esclavage que les Africains ont subi – avec l'utilisation du vocable « enslaved », plutôt que « slave. » Nous pourrions aussi aborder la question des Réparations, que tu évoques quand tu parles de dédommagement moral mais c'est un vaste sujet. Restons-en là.  
Pour en revenir à ton bestiaire, le coq est aussi un des animaux féroces qui hantent tes tableaux et fresques. Il s'incarne dans des figures zoomorphiques étranges, empreintes d'un réalisme fantastique dérangeant, plus près du cauchemar que du rêve. Dans Tribute (2016) et Let me Fly (2017), les figures masculines à tête de coq renvoient au sport de combat animal qui se déroule dans l'arène du pit a koq – as-tu déjà assisté à un combat de coqs ? Moi non, et c'est interdit en Guadeloupe désormais, non ? Dans des tableaux plus récents réalisés pendant ta résidence au MACTe tels que Sacred Feminine (2021) et Honey Kiss Lover (2021), le coq se fait féminin—sans pour autant devenir poule ! Dans nombre d'autres tableaux encore, il est tout simplement observateur de la bêtise humaine. Si les hommes sont en effet des bêtes, ton bestiaire relève plus encore de la fable que du conte, avec toute la dimension morale qu'il révèle. Moralité et spiritualité peuvent-elles faire bon ménage ? 
CR : De manière générale le coq est un symbole du temps, aux Antilles et plus largement dans la Caraïbe, car il chante au lever du jour et se couche avec le soleil. C'est un rythme qui cadence nos îles. Il fait partie des animaux de mon quotidien que l'on retrouve dans nos cours. C'est aussi un symbole de force, de puissance et de virilité. Oui, j'ai déjà participé à des combats coqs et ce, même dans ma cour (rires). Ma pratique ne fait pas nécessairement référence aux arènes des pit a kok cependant. Dans certains de mes travaux, je joue avec la composition de manière à duper le regardeur en le laissant croire qu'il s'agit de la tête d'un personnage. Si le coq est symbole de liberté que l'on retrouve dans les caractères de certains personnages, il m'offre aussi la liberté de le placer en tant que symbole, tantôt au bout d'un bras ou sur un cou. Dans Let me fly, il semble être plus urbain mais tout aussi déterminé à ne pas céder sa liberté. Dans B. Bird raconte-nous une histoire (2021), le personnage en mouvement, semble vouloir échapper à une réalité, en se réfugiant au cœur de la nature. Empêtré dans son canot, un pied chaussé de la traditionnelle sandale en plastique « mika », l'autre d'une botte de pluie découpée, accueilli par le coq étonné de cette course effrénée, il semble porter le message de la connexion à la nature. Mais le coq n'est jamais uniquement observateur. Il est souvent là pour rappeler cette quête de liberté ainsi que la force et la puissance dont nous sommes habités mais dont nous semblons ne pas toujours nous rappeler.  
S'il semble y avoir de la morale dans mon œuvre, ce n'est pas un procès d'intention mais plutôt une volonté de m'inspirer et de questionner la société par le biais de ma pratique artistique. L'art permet de tout transcender et sublimer, en permettant de (se) réinventer. La réflexion doit mener l'observateur à se questionner sur des thèmes tels que le respect, la tolérance, la richesse et la diversité des cultures avec comme idée force la valorisation de la culture noire. La fable en effet, contient une morale. Mais ma pratique relève plus du conte antillais composé d'animaux personnifiés, de mofwozman, d'imageries caribéennes dialoguant avec ma mythologie personnelle. Selon moi, tout peut coexister, dans ma pratique, je raconte au fil d'une narration qui compose mes séries, ce qui me mine mais aussi ce qui m'anime. On y retrouve parfois des paradoxes qui nourrissent ma propre réflexion. Les mises en opposition permettent de mettre en relief, de questionner, mais aussi de créer l'espace de tolérance et de laisser place à la liberté de chacun, à chaque chose de (co)exister.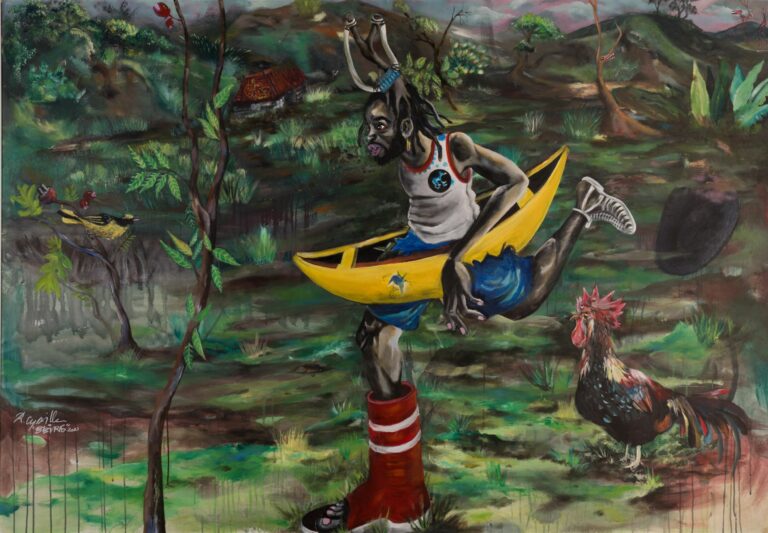 Ronald Cyrille. B.Bird raconte-nous une histoire, 2021. Acrylique sur toile. 140 x 200 cm. Image courtoisie de l'artiste 
CT : Moralisateur, tu ne l'es pas, notamment sur les sujets qui fâchent encore beaucoup en France, comme tout ce qui a trait à la colonisation par exemple. Tu t'en jouerais plutôt sous le mode de la dérision comme dans Colon nid (2017), relevant par ton jeu de mot, ce que l'extraction des richesses humaines et naturelles de la Caraïbe ont pu procurer de revenus économique aux colons et à leurs descendants, à l'inverse des descendants d'esclaves.  
Au vu de la matière que tu extraies de notre terreau, la richesse de la Caraïbe sembles-tu suggérer, était donc ailleurs… Seuls les paysages luxuriants de nos forêts semblent être épargnés par la tourmente, bien que nous les sachions par ailleurs tourmentés par la pollution. On s'enfuit, on s'entretue, se dégrade et on dégrade beaucoup dans tes tableaux. Sommes-nous bien ancrés dans nos îles ? De quel processus d'ancrage tes tableaux participent-ils ? 
RC : Les richesses de la Caraïbe ont été exploitées pour les intérêts économiques dans certains domaines comme la canne, le café, le coton, le tabac. Mais aujourd'hui la Caraïbe continue à être exploitée pour sa biodiversité, son climat, ses paysages, sa richesse culturelle, due à la mixité au sein de ses peuples. Nous sommes bien ancrés dans nos îles mais pas encore assez autonomes ou décisionnaires. Au-delà de la vision de carte postale laissant supposer une vie paradisiaque propice à la rêverie, à la détente et au farniente, nous devons faire face à des inégalités et à des problèmes socio-économiques persistants qui nous mettent sous tension. 
La violence parfois présente dans mes narrations où mes personnages s'entretuent ou dégradent ou encore fuient, fait référence à cette réalité qu'ils voudraient évincer, cette liberté qu'ils voudraient reconquérir. En réalité, le message dans mes œuvres est souvent porteur de revendications. Cette violence est aussi due aux nouvelles technologies qui permettent de diffuser à grande vitesse des faits de société de par le monde. Mais d'autres fois, ces personnages s'embrassent, s'entrelacent, se regardent avec bienveillance, se sourient – car c'est aussi cela la vie.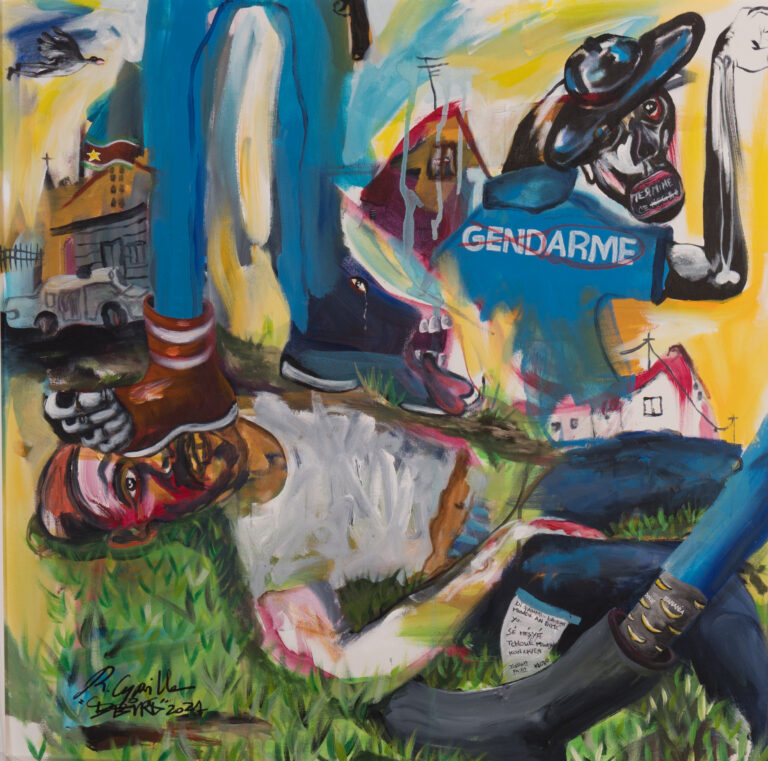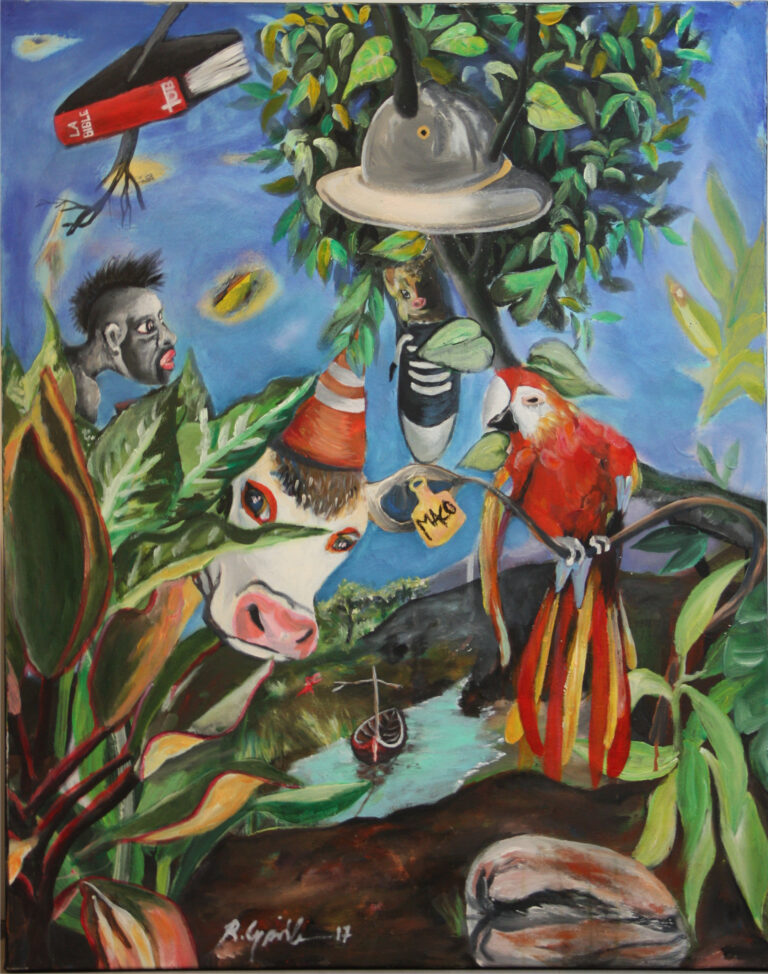 Ronald Cyrille. Justice for Klodo, 2021. Acrylique sur toile. 100 x 100 cm. Image courtoisie de l'artiste  
Ronald Cyrille. Colon nid, 2017. Acrylique sur toile. 100 x 79 cm. Image courtoisie de l'artiste  
Mon travail participe à la déconstruction de schémas qui sont autant issus de l'esclavage, de traumatismes, de questions identitaires, de la relation à la terre, et à l'Afrique que de notre héritage culturel et spirituel. Mon approche de la figuration a étonné en Guadeloupe dans un premier temps, car elle n'était pas conforme à la représentation classique et au modèle dominant. Ma représentation ou ma figuration contribue à déconstruire et en même temps à reconstruire et à se réapproprier notre identité caribéenne commune. Elle contribue aussi à créer indirectement un lien avec les civilisations qui nous ont précédé en Guadeloupe, comme celles des Taïnos et des Kalinagos tout en dialoguant aussi avec l'Afrique. Cet ancrage résonne avec l'idée qu'à développée Édouard Glissant que la Caraïbe serait le Tout-Monde, laboratoire de ses identités multiples, de cette créolisation du monde. 
CT : …Ou avec celle, qui la prolonge, de façon éthique et écologique, du navire-monde de Malcolm Ferdinand mentionné au début de notre conversation. Tu n'éludes ni n'évacues le double écueil de l'esclavage et de la colonisation mais il est clair que tu ne souhaites pas que ton navire-monde y échoue. En continuant ta traversée singulière, en débarquant les stéréotypes et en transbordant les imaginaires, tu inscris ton travail dans la généalogie artistique de la Caraïbe. Tu relèves aussi d'une filiation plastique proprement Guadeloupéenne. Il y a une dizaine d'année déjà, l'ouvrage Anthologie de la Peinture en Guadeloupe (2009) était publié. Connais-tu cet ouvrage ? Quels furent tes maîtres ? Je pense à l'œuvre étonnante de Philibert Yrius, dont la manière est très différente de la tienne, mais dont l'imaginaire est également ancré dans un fantastique antillais. Ou peut-être ne te reconnais-tu pas dans cette généalogie, toi qui préfères parler de genèse ? 
RC : Oui je connais cet ouvrage, dont j'ai pris connaissance à mon retour de l'école d'art Campus Caribéen des Arts de la Martinique, j'ai pu découvrir le travail de Philibert Yrius qui ne m'a pas laissé indifférent ainsi que celui de mes pairs. Je connais la peinture d'Yrius, je vois ce que tu veux dire, il est dans un univers singulier avec des couleurs qui lui sont propres. Il est vrai que l'on me parle de sa peinture en voyant la mienne, non pas qu'elles soient similaires, mais il y aurait peut-être une forme « d'étrangeté commune » et nos narrations se déroulent dans la nature. Qui sait, peut-être me retrouverais-je un jour dans un ouvrage tel que celui-là, qui recense le travail des acteurs culturels de la Guadeloupe et leur donne ainsi une forme de reconnaissance.  
Je n'ai pas de maître à proprement parler (rires), j'ai des références qui sont au-delà de mes frontières, tels que Wifredo Lam, Jean-Michel Basquiat, Kerry James Marshall, Manuel Mendive, mais aussi Jean Dubuffet ou Gérard Garouste. 
La genèse de mon univers, dans le sens de la « génétique » de ma pratique, naît de la mélancolie de mes souvenirs d'enfance mais aussi de ma volonté d'aborder les thèmes de l'errance et du vagabondage physique et pictural à travers le chyen kréyol. Il se forme à partir de là un abécédaire de formes en couleurs, de symboles, un bestiaire comprenant les animaux de mon territoire qui comprennent, l'oiseau, le poisson, l'abeille, le coq, l'araignée, le lézard et nourrissent mes narrations au fil des toiles. J'utilise souvent la métamorphose pour donner à mes personnages la liberté de se mouvoir ou encore de se « mofwazé » à leur guise selon les circonstances de la narration. Les contes et l'imagerie de la langue créole contribuent aussi à ma pratique. La musique comme le rap, la dancehall, le hip-hop mais aussi la soul, le jazz peuvent aussi être des influenceurs.  
Ainsi, je n'oppose pas nécessairement la généalogie à la genèse. Être inscrit dans une arborescence ou une forme de filiation par catégorie ou domaine disciplinaire, n'exclut pas une essence différente et relative à chacun selon sa sensibilité, ses motivations, sa situation géographique. Mais l'influence des références n'est pas n'ont plus exclue. D'ailleurs, mes références sont issues du bassin Caribéen pour la plupart d'entre elles. L'arborescence concernant le domaine des arts plastiques ne peut se limiter à la Guadeloupe seule, compte tenu de l'histoire commune que nous partageons avec les îles voisines. Faire mes études en Martinique, à été un des vecteurs de rencontres avec d'autres artistes de la Caraïbe. Ensuite mes voyages hors de nos territoires m'ont aussi permis de rencontrer des artistes de la diaspora caribéenne. Je me définis comme Caribéen et je navigue entre ces cultures multiples. Je crois que la force des Caribéens, c'est justement de pouvoir dialoguer avec le reste du monde.  
CT : Ronald, je te remercie pour cette belle synthèse de notre échange au long court. Je me réjouis de cette escale avec toi et sais que nous nous retrouverons bientôt à bon port, que ce soit à Pointe-à-Pitre, Roseau, Fort-de-France, Salvador, Miami, New York, Paris, Venise, Singapour, ou où sais-je encore—partout ton navire-monde nous debarquera. Mèsi en pil (pour emprunter au kreyol haitien.)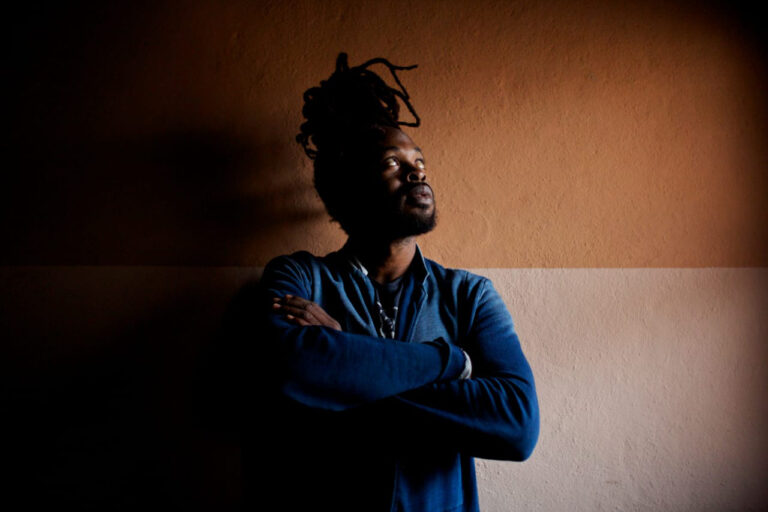 Ronald Cyrille, alias B.Bird, a reçu la bourse d'artiste 2020 de l'ICC au Pérez Art Museum Miami, en collaboration avec le Mémorial ACTe en Guadeloupe. Artiste d'origine guadeloupéenne et dominiquaise, Cyrille a étudié les arts visuels au Campus Caribéens des Arts à Fort-de-France, en Martinique. Son travail a été présenté dans le cadre d'expositions individuelles dans des lieux prestigieux tels que la Volta Art Fair, à New York, le centre culturel Rémy Nainsouta, à Pointe-à-Pitre, en Guadeloupe, la Fondation Clément et l'Atrium, tous deux à Fort-de-France, en Martinique. Cyrille a participé à des expositions collectives à l'Hunter East Harlem Galeries, à New York ; au Little Haiti Cultural Center, à Miami ; et au Tout-Monde Festival, à Miami, entre autres. Plus récemment, Cyrille a participé à l'Atlantic World Art Fair 2021, et a créé une peinture murale au 516 Arts Museum d'Albuquerque, au Nouveau-Mexique, pour l'exposition itinérante Dust Specks on the Sea : Sculpture contemporaine des Caraïbes françaises et d'Haïti.