Juan Carlos Alom is one of Cuba's most notable experimental photographers and filmmakers. He explores the idiosyncrasies and contradictions of everyday life, highlighting often-overlooked aspects of Cuban culture through compelling imagery and non-linear, spontaneous visual narratives. Inspired by the aesthetics and tradition of the 1960s documentary cinema in Cuba, Alom's oeuvre addresses Afro-Cuban traditions, spirituality and nature, and Caribbean diasporic experience from a poetic and metaphorical perspective.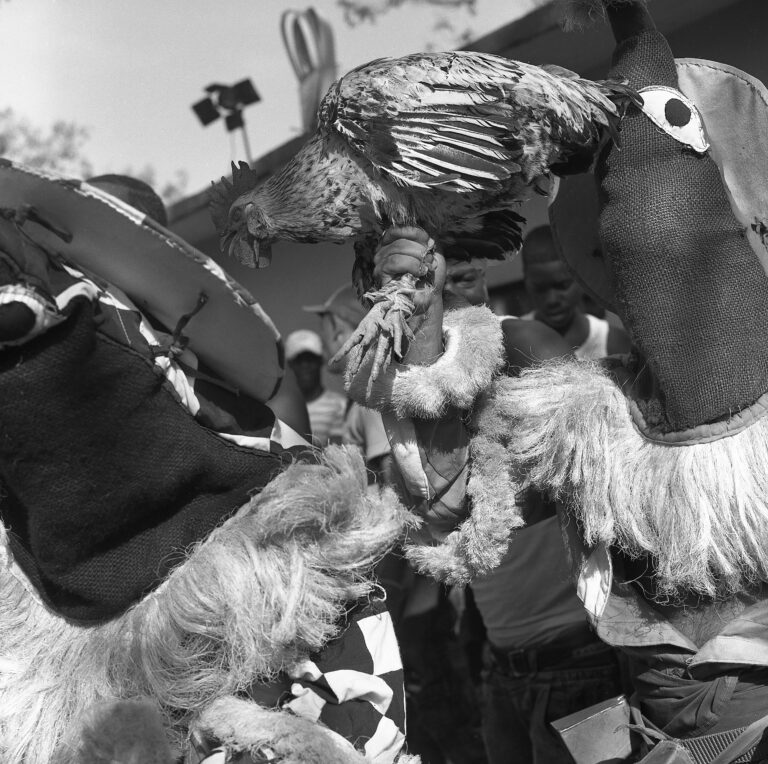 Juan Carlos Alom. Nacimiento de una tierra (Birth of a Land), 2010. Gelatin silver prints. 10 prints: 15 ¼ x 15 ¼ inches each. Collection Pérez Art Museum Miami, promised gift of Jorge M. and Darlene Pérez. ©Juan Carlos Alom.
Iberia Pérez González (IPG): Your photographic work often explores unseen or little-known dimensions of Cuban culture. The series of photographs, Nacimiento de una tierra (Birth of a Land, 2010), which is currently featured in Pérez Art Museum Miami's (PAMM) exhibition Allied with Power: African and African Diaspora Art from the Jorge M. Pérez Collection, provide one example. These photographs focus on the Abakuá secret society. What sparked your interest in documenting this all-male religious association? 
Juan Carlos Alom (JCA): The Abakuá secret society is a magico-religious brotherhood of African origin, which exists in Cuba in Havana and Matanzas. My first experience with Abakuá was in 1995, when two men showed up at my door asking if I could document a burial that would take place the next day. Two ecobios [friends] had died that day—coincidentally, on the same day they had pledged to the brotherhood many years before. Filming the funerary ritual would allow it to reach friends from Abakuá communities in Miami and New York. The next day, very early in the morning, I showed up at the place of the event. It was in Regla, a harbor neighborhood where the first Abakuá settlement on the island was established in the nineteenth century. This was my first contact with this world beyond what is written in books. I remember that they took the first coffin out to the street and broke a terracotta shingle that had an encrypted signature. Between African prayers, four men picked up the coffin and walked towards the cemetery located a few blocks away. They all walked and danced at the same time; between songs, guttural sounds and percussive rattles echoed off the walls of the coffin. As the funeral procession progressed, children, women, men, and the elderly joined in, transforming the crowd into a hive of heads and voices under the August sun. It seemed like we were in Calabar—that distant place in Africa where this secret brotherhood originated. At the entrance of the cemetery, the coffin was moved in spirals while the songs reinforced the feeling of a mysterious and powerful energy. This ritual is done so the person being buried becomes disoriented and does not know that he is entering the cemetery; this is believed to allow the deceased to rest in peace. When the first burial was finished, the second began immediately. 
Many years later, in 2010, I had the privilege of being invited to the birth of a new plante, or Abakuá initiation ceremony, in the Havana neighborhood of Mantilla. That is where this series Nacimiento de una tierra emerged. I have always been attracted to the ludic and performatic character of this celebration, the polyrhythmic complexity of its music, the corporeal expressions of these dance rituals, its costumes and accessories, the beauty and mystery of the anaforuanas [Abakuá markings or signatures]—all of which persist to this day. Many young men here in Havana were being initiated into this society in this time.  
IPG: The goat would suggest this is a sacrifice ritual, right? 
JCA: Yes, in these ceremonies the goat is sacrificed in an attempt to regain a secret power. 
IPG: Considering this is a secret society, what were some of the challenges you encountered while documenting this initiation ceremony?  
JCA: I did not have access to the most secretive part of the ritual precisely because I am not a member of this society. The challenge has always been to be honest with the community, the audience, and the material I work with to avoid misconstruing the reality of the events.  
IPG: Can you explain the relation of the images with the title of the series? 
JCA: Nacimiento de una tierra, or Birth of a Land, is a visual metaphor that refers to the new land that was born far from Africa. The existence of Abakúa in Cuba has allowed for these traditions to be preserved and transmitted from generation to generation.  
IPG: The enigmatic character of the Abakuá society captured in this series is heightened by the use of black and white photography. In fact, with a few exceptions, most of your work is in black and white. Can you talk about what drives that formal decision? 
JCA: Black and white photography has been my chosen mode for my work from the beginning. In part, this was due to the precariousness of my context: this type of film was more available and easier to develop. Eventually, I embraced the black and white aesthetic for its beauty. Monochromatic film liberates me from wrangling with accessories and added noise; it allows me to focus on my goal. I have always been fascinated by its grainy quality, luminosity, and texture. The grain is never the same in two photographs. Due to the emulsion of silver halides, the result is always different. It all depends on how the halides react to the light, creating unique textures. As time goes by, a photograph ages and continues its transformation. I have seen how the silver comes to the surface of a photograph—as if it were alive.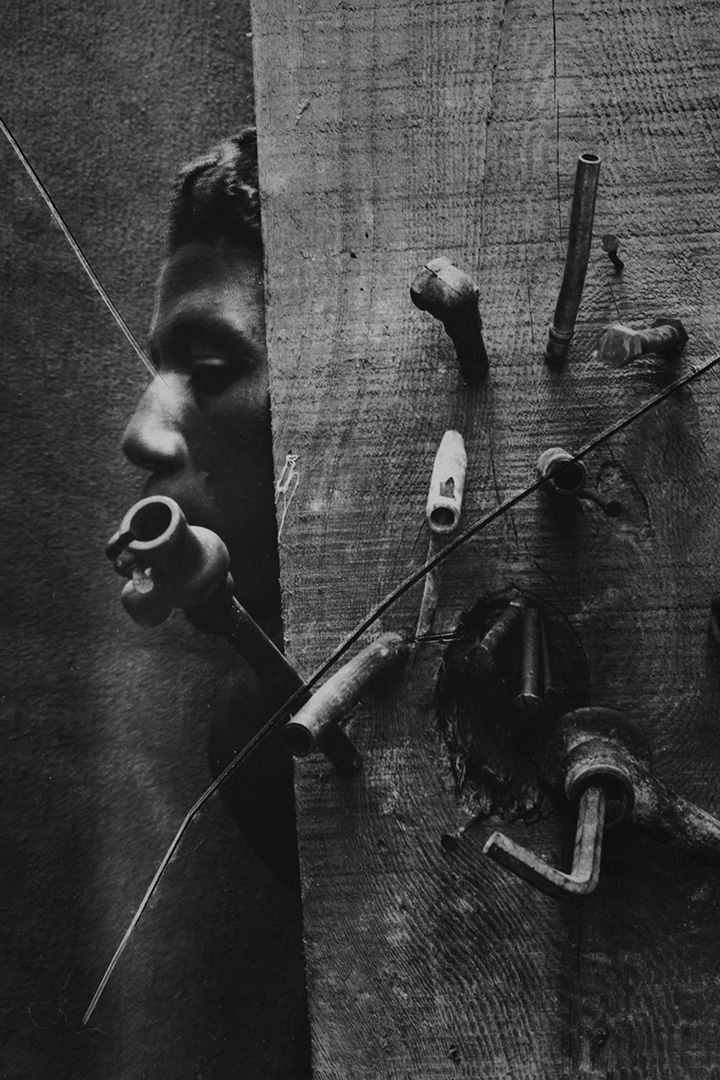 Juan Carlos Alom. El libro oscuro (Dark Book), 1991-1995. Gelatin silver prints. 40 prints: 16 x 20 inches each. Courtesy the artist.
IPG: The theme of Afro-Cuban religion that you explore in Nacimiento de una tierra is also present in earlier works such as El libro oscuro (The Dark Book, 1991 – 1995), although the aesthetic approach is quite different. Can you talk more about this series?  
JCA: The series El libro oscuro was made with a large format camera in the early 1990s. This was a period of experimentation in my work. During these years, I worked a lot with expired film and photographic material that would appear along the way. I even experimented with chemistry in the developing process. I got used to the tension that arises from working with analog photography—its accidents, chance, the unexpected—and grew to accept it and even appreciate its beauty. This series has a strong oneiric component. I tried to create compositions out of images that would come to my head. I worked directly on the negatives, lifting the emulsion, scratching, and intervening in the negative images in different ways. Sometimes I feel that I went through a kind of initiation in this period so that years later I could enter Cuban nature—a landscape that has always been very mysterious and attractive to me. This is how I became interested in the plants and trees of Cuba, the roads through the woods, the rural legends, and the spirituality of the mountains. That led me to travel around the island, to live with people, listen to them, and thank them for their kindness. 
IPG: You also explore the relation between spirituality and nature in your photographic series on medicinal plants. Could you talk a bit about the theme of healing or regeneration in this body of work? 
JCA: In 2012, during a trip around the Zapata Peninsula on the southern coast, I found myself in front of a landscape of burnt royal palms—a native tree of Cuba. In the same marshy place covered with ashes, plants began to sprout again. Las plantas medicinales florecen de nuevo (Medicinal Plants Bloom Again, 2012) is a metaphor about change—a landscape burns naturally, and the next one breaks through; the landscape reconfigures itself as part of its natural evolution. Medicinal plants have long been used in Cuba to alleviate symptoms of diseases, and to heal spiritual ailments with their magico-religious qualities.  
Juan Carlos Alom. Las plantas medicinales florecen de nuevo (Medicinal Plants Bloom Again), 2012. Gelatin silver prints. 12 prints: 16 x 16 inches each. Courtesy the artist.
IPG: The motif of the seascape and light play a predominant role in Nacidos para ser libres (Born to be Free, 2012), one of a few photographic series where you use color. Here the sun shines a spotlight on the subjects portrayed, as if the viewer is being invited to enter the subjective realm of these characters. Can you talk more about this work? 
JCA: Nacidos para ser libres is a way of thinking about old age and freedom. For this series, I was working with subjects between 75 and 90 years of age. I decided to do this series of portraits in color as a celebration of life near the sea and of old age, a stage of life that is supposed to be full of the wisdom of accumulated experience. I took these portraits inside the water facing the sustained gaze of these people who, for many years, have bathed almost daily off this part of Havana's urban coast. Entering the sea with them and my camera was like being able to enter, even if for a moment, into their life stories and the stories of their generation.  
As Cuba's population ages, the lens of my camera bears witness to this ritual whereby some islanders dive underwater with the expectation of renewal. This attitude keeps them healthy and free, uncontaminated by the power that many other people of these same generations try to cling to. 
Juan Carlos Alom. Nacidos para ser libres (Born to be Free), 2012. Inkjet prints. 13 prints: 18 x 18 inches each. Collection Pérez Art Museum Miami, gift of Jorge M. Pérez. ©Juan Carlos Alom.
IPG: In recent years, you have engaged with the theme of the Caribbean diaspora in the United States. I recognize the iconic Toñita's bar in the photographic series titled Bar Caribe (Caribbean Bar, 2013–2014). These photographs are fascinating—can you share more about this work?  
JCA: I created Bar Caribe when I was in Williamsburg, a neighborhood in Brooklyn, New York. Many Puerto Ricans of various generations, among other visitors, go to this place dubbed as "the last Puerto Rican social club." For years now, this Brooklyn neighborhood has been struggling with gentrification and its negative consequences, which has caused the displacement of many Latino families that historically lived there. The Caribbean Social Club preserves the genuine spirit of Caribbean popular culture and serves as a site of resistance. This place of leisure also acts as a community kitchen on Sundays, a center for neighborhood meetings, and a place for talks and debates of common interest. For years, María Antonia Cay, its owner, fondly known as "Toñita," sponsored softball and little league baseball teams, contributing to the revival of this deprived Latino community.  
Juan Carlos Alom. Bar Caribe (Caribbean Bar), 2013-2014. Gelatin silver prints. 30 prints: 9 x 9 inches each. Courtesy the artist.
IPG: These images give us a remarkable insight into the cultural dynamics of the Caribbean diaspora in the United States, which you have also explored through your films.  
JCA: In the '80s and '90s, there was a very large exodus of artists from Cuba to Mexico, the United States, and even to Spain. I have always felt admiration and respect for Cuban artists of this generation, many of whom contributed to my artistic training. Among them was Carlos Cárdenas, who settled in New York at that time. Whenever we met in the city, we talked about art and life; I felt identified with him as a human being and as an artist. On later trips, every time I asked about him, almost no one knew where he was. This led me to create a myth around his life. In 2019, I began filming Buscando a Carlitos Cárdenas (Searching for Carlitos Cárdenas). This film, which remains a work in progress, is a tribute to all the artists who have been creating work outside of Cuba and those who continue to leave the island. I try not to place myself in any position, but rather to disprove myths about the Cuban diaspora through my own experience. I do not see artists who left or stayed in Cuba, or are living on or off the island—I just see artists wherever they are doing their lives. I do not see them immersed in nostalgia. I see people who conceive projects and carry them out, who live as part of the world.  
So far, I have been able to film Buscando a Carlitos Cárdenas in Mexico City, Miami, San Francisco, and New York. The structure of the film is like a mosaic—small sequences form a larger conceptual structure without one central narrative. I film my experience of being in the moment, and the camera becomes an extension of my body. As the great filmmaker Robert Drew said: "I am determined to be as discreet as possible and committed to not distorting the situation." 
Juan Carlos Alom. Buscando a Carlitos Cárdenas (Searching for Carlitos Cárdenas), ongoing, 2019-present. 16mm film (black and white, sound), 30 min. Courtesy the artist.
IPG: Cuba has a rich cinematic tradition dating back to early twentieth century. When did you start working with the moving image?  
JCA: As I mentioned earlier, in the midst of the crisis of the Special Period in Cuba in the early '90s, I was left without photographic supplies. Neither film, photographic paper, nor chemicals could enter the country. At that time, a friend told me he had some cans of expired 16mm film, which his father had kept in the refrigerator since the boom of the film clubs in the mid-1950s. After that, I went to Matanzas to get a 16mm camera from another photographer friend. Then the question remained of how I could develop the material, and a third friend appeared with a Soviet film developing tank. In this way, I was able to build a 16mm laboratory and began to conceive the image also in motion. Since then, I have continued developing my films at home. Hand-processing the films by myself has given me the freedom to bypass censorship and surveillance, while maintaining total autonomy over my cinematographic production. 
IPG: I particularly remember the striking juxtaposition of image and sound in your iconic 16mm black and white film Habana Solo (2000), which you shared with me during my visit to your studio in 2018. Can you talk about this work? Is there a narrative intention suggested by the interplay of the images and music sequence? 
JCA: Habana Solo is my second film. It is an ode to the city permeated by music. In the film, several iconic Cuban musicians of various genres—jazz, fusion, and Cuban music in general—appear in an uninterrupted visual solo. The images are arranged in the same way that the musicians improvise these pieces, playing off of the immediateness of the photographic medium. I spent almost a year looking for connections between the city and each music piece. I wanted to improvise with images as the musicians did with their music, approaching the city as a source of images.  
Juan Carlos Alom. Habana Solo, 2000. 16mm film (black and white, sound), 14:40 min. Courtesy the artist.
IPG: What have you been working on lately?  
JCA: Being indoors for so long during the pandemic, I started working on a film project in 16mm about confinement. The film is composed of a series of images drawn from the news on television, radio, and social media during the initial phase of lockdown in Cuba. It also has an autobiographical component because it takes as point of departure my own experience with my family—a family confined due to the COVID-19 health crisis in a country that is also confined for many other reasons. 
I am also re-editing two films: Enigmas versiformes (Versiform Enigmas, 2019) and La corriente asesina (The Killer Stream, 2019). The first film is about the Cuban charade, better known as "La Bolita," a kind of Cuban clandestine lottery game that has never ceased to exist despite being banned by the government since 1959. This "game" is based on a well-structured and hierarchical system of encryption, in which each number corresponds to a word or figure, and each bet represents a guess. 
La corriente asesina is a personal reflection on a society in transition. The film emphasizes a contradictory economic discourse between the theory it proposes and its obsolete praxis. Through his classes, a professor tries to teach his students the basic principles of economics while, at the same time, images of daily life occur within a system that is in constant contradiction with what this professor teaches. It's title, which means "the killer stream" refers metaphorically to the Gulf Stream, an ocean current that begins in the straits of Florida and ends up on Europe's western shores. Its large channel of warm waters spans over kilometers across. Many boaters and fishermen refer to this powerful natural phenomenon as "the killer stream" because of the danger it poses for those trying to navigate within it. The film also alludes to other "streams" as well, like those of thought or ideology.  
I am also working with my wife, Aimara Fernández, on a special iteration of a 16mm filmmaking workshop that we have been doing together since 2017. We want to invite some artists to carry out a 16mm short film project that reflects their own experience of lockdown.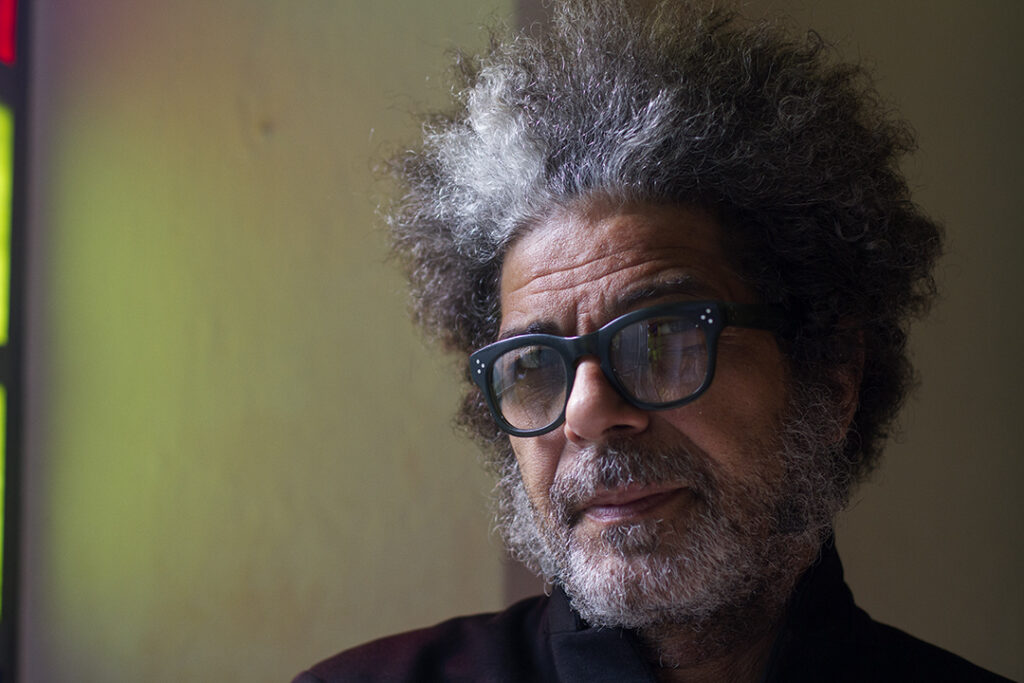 photo credit: Aimara Fernández
Juan Carlos Alom studied the restoration of negatives and photographic images at the Fototeca de Cuba (1989), and semiotics at the Faculty of Journalism of the University of Havana (1990). Alom's work has been exhibited in galleries and museums in Spain, the United Kingdom, Italy, Germany, Switzerland, Mexico, South Africa, the United States, and the Caribbean. His work is included in the permanent collections of the National Museum of Fine Arts of Havana, Cuba; the Los Angeles County Museum of Art, California; Ludwig Forum for International Art, Germany; Mexico's National Photo Library, Pachuca, Mexico; and Pérez Art Museum Miami, Florida.
"La cámara se convierte en una extensión de mi cuerpo": Conversación entre Juan Carlos Alom e Iberia Pérez González
Juan Carlos Alom es uno de los fotógrafos y cineastas experimentales más destacados de la Cuba contemporánea. A través de imágenes emotivas y narrativas visuales espontáneas, sin linealidad, Alom explora las idiosincrasias y contradicciones de la vida diaria, así como aspectos desconocidos de la cultura cubana. Inspirado en la tradición y la estética del cine documental cubano de la década de 1960, su trabajo aborda temas como las religiones afrocubanas, la espiritualidad, la naturaleza y la experiencia de la diáspora caribeña desde una perspectiva metafórica y poética.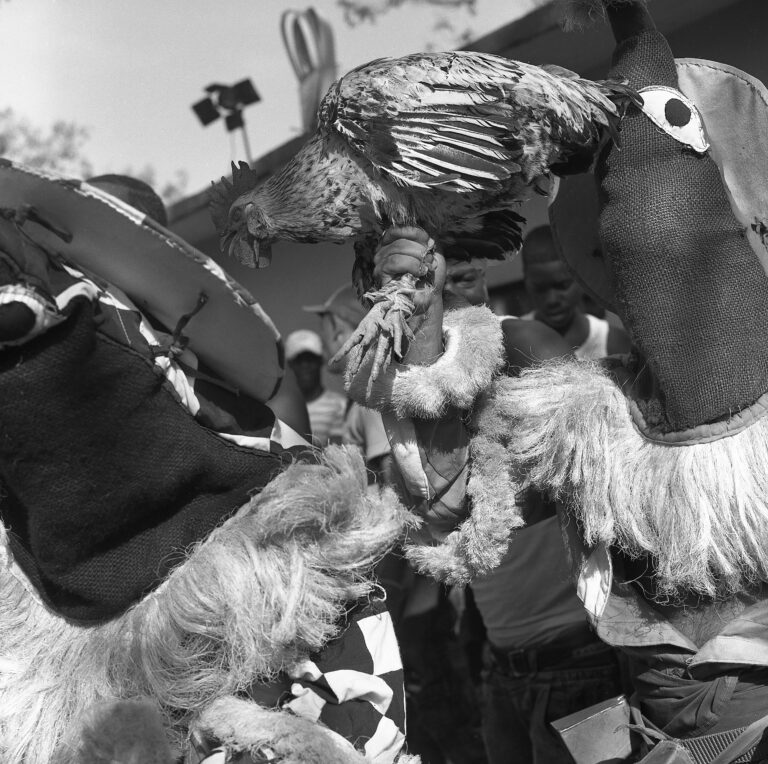 Juan Carlos Alom. Nacimiento de una tierra, 2010. Impresiones en gelatina de plata. 10 fotografías: 15 ¼ x 15 ¼ pulgadas, cada una. Colección Pérez Art Museum Miami, donación prometida de Jorge M. y Darlene Pérez. © Juan Carlos Alom
Iberia Pérez González (IPG): Tu trabajo fotográfico a menudo explora dimensiones ocultas o poco conocidas de la cultura cubana. Un ejemplo de esto se encuentra en la serie Nacimiento de una tierra (2010), que actualmente forma parte de la exposición Aliados con el poder: Arte de África y su diáspora en la Colección Jorge M. Pérez en el PAMM. Estas fotografías se centran en la sociedad secreta Abakuá. ¿Qué despertó tu interés en documentar esta asociación religiosa donde solo se admiten hombres? 
Juan Carlos Alom (JCA): La sociedad secreta Abakuá es una hermandad mágico-religiosa de origen africano, que en Cuba solo existe en La Habana y Matanzas. El primer acercamiento que tuve a una experiencia abakuá fue en 1995, cuando dos hombres se presentaron en mi casa con la petición de que documentara un entierro que tendría lugar al día siguiente. Habían muerto ese día dos ecobios (amigos), quienes se habían iniciado en la sociedad Abakuá ese mismo día hace muchos años, siendo muy jóvenes. El objetivo de la filmación del rito funerario era precisamente hacerla llegar a una comunidad abakuá que residía en Miami y Nueva York. Al día siguiente, muy temprano en la mañana, me presenté en el lugar, Regla, el barrio portuario donde tuvo lugar el primer asentamiento abakuá de Cuba en el siglo XIX. Esta fue la primera vez que tuve contacto con este mundo más allá de lo que cuentan los libros.  
Recuerdo que sacaron el primer ataúd a la calle y rompieron una teja de barro que tenía una firma encriptada. Entre rezos africanos, cuatro hombres levantaron el ataúd y caminaron hasta el cementerio, ubicado a unas cuadras de distancia. Todos caminaban y danzaban al mismo tiempo, entre cantos, sonidos guturales y golpes percutivos que retumbaban en las paredes del ataúd. Mientras avanzaba la procesión fúnebre, se sumaban niños, mujeres, hombres y ancianos, transformándose la multitud en un hervidero de cabezas y voces bajo el sol de agosto. De repente parecía como si me hubieran transportado al Calabar, ese lugar lejano de África donde se dice que se originó esta hermandad secreta. A la entrada del cementerio, el ataúd se movía en espirales mientras los cantos reforzaban esa sensación de una energía misteriosa y poderosa. Se dice que este ritual se realiza para que la persona que va a ser enterrada se desoriente y no sepa que está entrando al cementerio, lo que le permitirá descansar en paz. Cuando terminó el primer entierro, comenzó sin espera el segundo. 
Años después, en 2010, tuve el privilegio de ser invitado al nacimiento de un nuevo plante abakuá, o iniciación ñáñiga, en el barrio habanero de Mantilla. De ahí surgió esta serie Nacimiento de una tierra. Siempre me ha atraído el carácter lúdico y performático de esta ceremonia de iniciación, la complejidad polirrítmica de su música, la expresión corporal de estos rituales danzarios, sus atuendos y complementos, la belleza y el misterio de las anaforuanas (marcas o firmas de Abakuá), todo lo cual perdura hasta el día de hoy. Esa experiencia coincidió con un momento en que en la Habana muchos jóvenes se iniciaban en esta sociedad. 
 IPG: La presencia de la cabra sugiere que este es un ritual de sacrificio, ¿verdad? 
JCA: Sí, en estas ceremonias se sacrifica una cabra con la intención de recuperar un poder secreto. 
 IPG: Dado que se trata de una sociedad secreta, ¿qué desafíos encontraste al documentar esta ceremonia de iniciación? 
JCA: No tuve acceso a la parte más secreta del ritual, precisamente porque no soy miembro de esta sociedad. El desafío siempre ha sido ser honesto con la comunidad y el material con el que trabajo para evitar tergiversar la realidad o los eventos. 
IPG: ¿Podrías explicar la relación de las imágenes con el título de la serie?  
JCA: Nacimiento de una tierra es una metáfora visual que hace referencia a la nueva tierra que nació lejos de África en Cuba, y que ha permitido que las tradiciones abakuá se conserven y se transmitan de generación en generación.   
IPG: El carácter enigmático de la sociedad Abakuá está acentuado en esta serie por el uso del blanco y negro. De hecho, con algunas excepciones, la mayor parte de tu trabajo fotográfico es en blanco y negro. ¿A qué responde esa decisión? 
 JCA: El blanco y negro está presente en mi obra desde el comienzo, en parte debido a la precariedad del contexto, a una mayor disponibilidad de esta película y la facilidad que me ofrecía al momento del revelado. Después acogí definitivamente la fotografía en blanco y negro por la belleza que aprecio en este tipo de película. La película monocromática me libera de accesorios y ruidos; me concentra más en mi objetivo. También me fascinan el grano, la luminosidad y la textura que me da este soporte. El grano nunca es el mismo en dos fotografías. Debido a la emulsión de los haluros de plata, el resultado siempre es diferente. Todo depende de cómo reaccionen estos haluros ante la luz, creando texturas únicas. Con el paso del tiempo, una fotografía envejece y continúa su transformación. He visto cómo la plata sale a la superficie de una fotografía —como si estuviera viva—.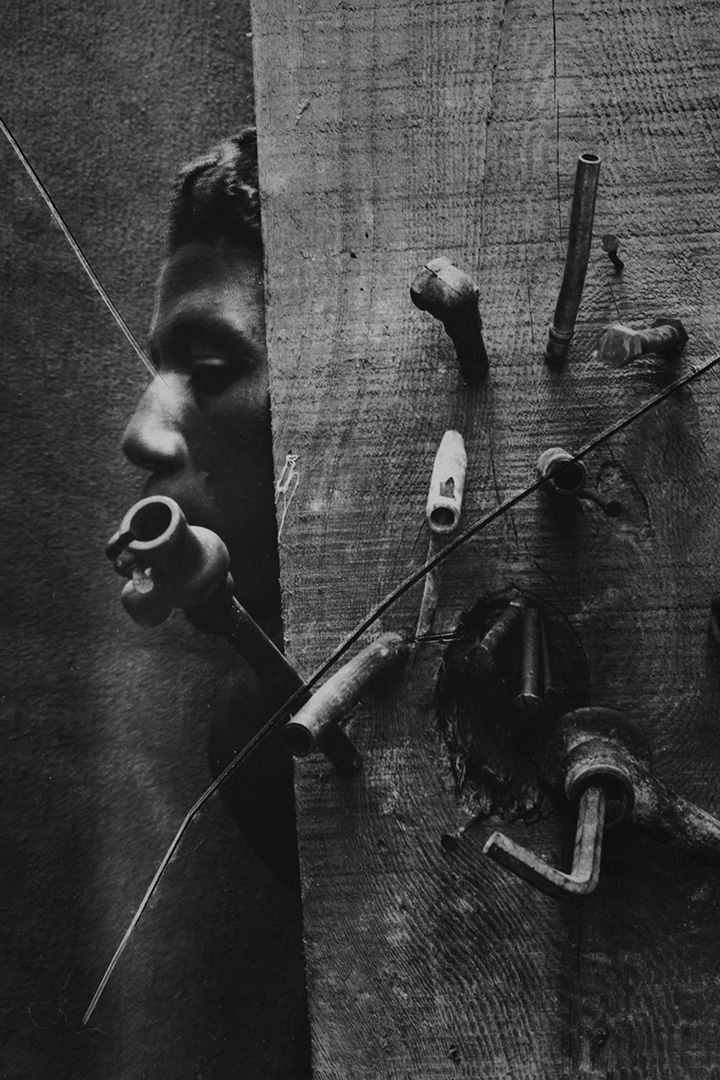 Juan Carlos Alom. El libro oscuro, 1991–1995. Impresiones en gelatina de plata. 40 fotografías: 16 x 20 pulgadas, cada una. Cortesía del artista
IPG: El tema de la religión afrocubana que exploras en Nacimiento de una tierra también está presente en obras anteriores como El libro oscuro (1991-1995), aunque en esta el acercamiento estético es diferente. Háblame sobre esta serie.
JCA: La serie El libro oscuro fue realizada con una cámara de gran formato a principios de los noventa, un período de experimentación en mi trabajo. Durante esos años, trabajé mucho con películas caducadas y el material fotográfico que iba apareciendo en el camino. Incluso experimentaba mucho con las químicas en el proceso de revelado. Me acostumbré a la tensión que produce trabajar con la fotografía analógica —sus accidentes, el azar—, aceptando lo inesperado e incluso apreciando su belleza. Esta serie tiene un fuerte componente onírico. Intentaba crear composiciones a partir de imágenes que me venían a la cabeza. Trabajaba directamente sobre el negativo, levantando la emulsión, rayándolo o interviniéndolo de distintas maneras. A veces siento que en este período pasé por una especie de iniciación para poder adentrarme en el paisaje natural cubano, un paisaje que siempre ha sido muy misterioso y atractivo para mí. Así llegué a interesarme por las plantas y los árboles de Cuba, los caminos, las leyendas rurales y la espiritualidad del monte. Eso me llevó a viajar por la isla y a convivir con la gente, escucharlos y agradecerles su amabilidad para conmigo.
IPG: También exploras la relación entre espiritualidad y naturaleza en tu serie fotográfica de plantas medicinales. ¿Podrías hablar un poco sobre el tema de la sanación o la regeneración en este cuerpo de trabajo?
JCA: En 2012, durante un viaje que realicé por la península de Zapata en la costa sur, me encontré frente a un paisaje de palmas reales quemadas. La palma real es el árbol nacional de Cuba. En el mismo lugar cenagoso donde todo era cenizas, comenzaban a germinar las plantas nuevamente. Las plantas medicinales florecen de nuevo (2012) es una metáfora sobre el cambio: un paisaje se quema naturalmente y se abre paso el siguiente. El paisaje se reconfigura como parte de su evolución natural. Desde hace mucho tiempo las plantas medicinales se han usado en Cuba para aliviar síntomas de enfermedades, además de para sanar dolencias espirituales debido a su carácter mágico-religioso.
Juan Carlos Alom. Las plantas medicinales florecen de nuevo, 2012. Impresiones en gelatina de plata. 12 fotografías: 16 x 16 pulgadas, cada una. Cortesía del artista
IPG: El paisaje, especialmente el paisaje hídrico, y la luz juegan un rol predominante en Nacidos para ser libres (2012), una de las pocas series fotográficas en las que utilizas el color. En estas imágenes, la luz del sol que ilumina a los retratados pareciera invitar al espectador a adentrarse en el espacio subjetivo de estos personajes… 
JCA: Nacidos para ser libres es una forma de pensar sobre la vejez y la libertad. Preferí hacer esta serie de retratos en color como celebración de la vida cerca del mar y también de la ancianidad, una etapa que se supone llena de sabiduría y experiencia acumulada. Tomé estos retratos dentro del agua, de frente a la mirada sostenida de estas personas que desde hace muchos años se bañan casi a diario en esta parte de la costa urbana habanera. Entrar al mar con ellos y mi cámara fue como poder entrar por un momento a sus historias de vida, y a las historias de vida de una generación entre los 75 y 90 años de edad. 
Mientras Cuba enfrenta un envejecimiento demográfico, el lente de mi cámara es testigo de un ritual en el que algunos isleños se sumergen bajo el agua con la expectativa de renovación. Esta actitud los mantiene sanos, y en cierta manera libres, descontaminados del poder al que muchas otras personas de estas mismas generaciones tratan de aferrarse. 
Juan Carlos Alom. Nacidos para ser libres, 2012. Impresión por inyección de tinta. 13 fotografías: 18 x 18 pulgadas, cada una. Colección Pérez Art Museum Miami, donación de Jorge M. Pérez. © Juan Carlos Alom
IPG: El tema de la diáspora caribeña en los Estados Unidos ha estado presente en tu obra de los últimos años. Reconozco el icónico bar de Toñita en tu serie titulada Bar Caribe (2013-2014). Estas fotografías son fascinantes, ¿puedes compartir más sobre este trabajo? 
JCA: Bar Caribe es una serie que realicé cuando estaba en Williamsburg, Nueva York. Muchos puertorriqueños de varias generaciones, entre otros visitantes, acuden al Caribbean Social Club, bautizado como "el último club social puertorriqueño del vecindario". Desde hace unos años, este barrio de Brooklyn ha estado luchando contra la gentrificación y sus consecuencias negativas, lo que ha provocado el desplazamiento de muchas familias latinas que tradicionalmente vivieron allí. El Caribbean Social Club conserva un espíritu genuino como espacio de resistencia de la cultura popular caribeña. Me pareció interesante que este lugar de ocio también funciona como cocina comunal los domingos, además de centro de reuniones de barrio y espacio de charlas y debates de interés común. Durante años, su dueña, María Antonia Cay, conocida como "Toñita", patrocinó equipos de softbol y béisbol de pequeñas ligas, contribuyendo de alguna manera a la reanimación de esta desfavorecida comunidad latina. 
Juan Carlos Alom. Bar Caribe, 2013–2014. Impresiones en gelatina de plata. 30 fotografías: 9 x 9 pulgadas, cada una. Cortesía del artista
IPG: Estas imágenes nos brindan una visión extraordinaria de las dinámicas culturales de la diáspora caribeña en los Estados Unidos, tema que también has explorado a través de tu obra fílmica… 
JCA: Entre los años ochenta y noventa, hubo un éxodo muy grande de artistas cubanos a México y Estados Unidos, incluso a España. Siempre he sentido admiración y respeto por los artistas cubanos de esa generación, muchos de los cuales contribuyeron a mi formación artística. Entre ellos se encontraba Carlos Cárdenas, quien en ese momento se había radicado en Nueva York. Siempre que nos encontrábamos en esta ciudad, hablábamos del arte y la vida. Me sentía identificado con él como ser humano y como artista. En viajes posteriores, cada vez que preguntaba por él, casi nadie sabía decirme dónde estaba. Esto me llevó a crear un mito en torno a su vida, y en 2019 comencé a filmar Buscando a Carlitos Cárdenas. Este filme (trabajo en proceso) es un homenaje a todos los artistas que llevan muchos años creando obra fuera de Cuba y a los que siguen saliendo de la isla. Intento no colocarme en ninguna posición, sino todo lo contrario, romper los mitos sobre la diáspora cubana desde mi propia experiencia. No veo artistas que se fueron o se quedaron, ni artistas de dentro o fuera de la isla, simplemente veo artistas, donde sea que estén haciendo sus vidas. No los veo sumergidos en la nostalgia. Veo personas que trazan proyectos y los realizan, que viven como parte del mundo. Hasta ahora, he podido filmar Buscando a Carlitos Cárdenas en Ciudad de México, Miami, San Francisco y Nueva York. La estructura del filme es como un mosaico en el que pequeñas secuencias forman una estructura conceptual mayor sin narrativa. Solo filmo mi experiencia de estar allí. Vivo ese acontecimiento, y la cámara se convierte en una extensión de mi cuerpo presente. Como dijera el gran cineasta Robert Drew: "estoy decidido a ser lo más discreto posible y comprometido a no distorsionar la situación". 
Juan Carlos Alom. Buscando a Carlitos Cárdenas, en proceso, 2019-presente. Película en 16 mm (blanco y negro, con sonido). 30 min. Cortesía del artista
IPG: Cuba cuenta con una fuerte tradición de creación cinematográfica que se remonta a principios del siglo XX. ¿Cuándo comenzaste a trabajar con la imagen en movimiento?
JCA: Como mencionaba anteriormente, en medio de la crisis del Período Especial en Cuba, a principios de los noventa, me vi privado de material fotográfico. No entraba al país papel fotográfico, ni película, ni [sustancias] químicas. En ese momento, un amigo me dijo que disponía de algunas latas de película de 16 mm vencida años atrás, que su padre conservaba todavía en el refrigerador desde el boom de los cineclubes a mediados de los cincuenta. Después de eso, fui a Matanzas a buscar una cámara de 16 mm que me cedió otro amigo fotógrafo. Quedaba entonces la interrogante de cómo podría revelar el material, y apareció un tercer amigo con un tanque de revelado soviético. De esta manera pude armar un laboratorio de 16 mm y comencé a concebir la imagen también en movimiento. Desde entonces sigo revelando mis películas en casa. El revelado a mano de las películas por mí mismo me ha dado la libertad de trabajar fuera de la censura y la vigilancia, manteniendo autonomía total sobre mi producción cinematográfica.
IPG: De la visita que hice a tu estudio en La Habana en 2018, recuerdo particularmente la yuxtaposición de imagen y sonido en tu emblemático filme en blanco y negro Habana Solo (2000), realizado en 16 mm. ¿Me puedes hablar de este filme? ¿Existe una intención narrativa sugerida en la interacción de las imágenes y la secuencia musical?
JCA: Habana Solo es mi segunda película. Es una oda a la ciudad atravesada por la música. En la película aparecen varios músicos cubanos fundamentales de diversos géneros —jazz, fusión y música cubana en general— en un solo visual ininterrumpido. Las imágenes se concatenan de la misma manera que los músicos improvisan estas piezas y responden a la inmediatez del medio fotográfico. Pasé casi un año buscando conexiones entre la ciudad y los diferentes solos musicales. Quería improvisar con las imágenes tal como lo hacían los músicos con su música, acercándome a la ciudad como escenario de imágenes.
Juan Carlos Alom. Habana Solo, 2000. Película en 16 mm (blanco y negro, con sonido). 14 min 40 s. Cortesía del artista
IPG: ¿En qué has estado trabajando últimamente? 
JCA: Al estar tanto tiempo dentro de casa, comencé a trabajar en un proyecto fílmico en 16 mm sobre el confinamiento. La película está compuesta por una serie de imágenes extraídas de las noticias de la televisión, la radio y las redes sociales durante la fase inicial del encierro en Cuba. También tiene un componente autobiográfico, porque toma como punto de partida mi propia experiencia con mi familia —una familia confinada debido a la crisis de salud del Covid-19 en un país también confinado por muchas otras razones—. 
Además, estoy reeditando dos películas en 16 mm: Enigmas versiformes (2019) y La corriente asesina (2019). La primera trata sobre la charada cubana, mejor conocida como "La Bolita", una especie de juego de lotería clandestino que nunca ha dejado de existir a pesar de su prohibición por parte del gobierno desde 1959. Este "juego" funciona a partir de un orden jerárquico y bien estructurado, a través de un lenguaje versiforme a modo de un sistema de preguntas y respuestas encriptadas que representan un número. 
La corriente asesina es una reflexión personal sobre una sociedad en transición. A través de la imagen, se enfatiza un nuevo discurso económico contradictorio entre la teoría que propone y su praxis obsoleta. A través de sus clases, un profesor intenta enseñar a sus alumnos los principios básicos de la economía mientras, al mismo tiempo, se pasan imágenes de la vida misma dentro de un sistema que está en constante contradicción con lo que enseña este profesor. La corriente asesina alude metafóricamente a la corriente del Golfo, una corriente oceánica que nace en el estrecho de Florida y termina su curso en las costas occidentales de Europa. Su gran cauce de aguas cálidas, que se extiende sobre aproximadamente 1000 km de ancho, garantiza la armonía y la calidad de vida en el planeta. Muchos marinos y pescadores se refieren a este poderoso fenómeno natural como "la corriente asesina" debido al peligro que representa para la navegación. Muchos cubanos atraviesan esta peligrosa corriente para llegar a la Florida. La película también alude a otras "corrientes", pudiendo ser de pensamiento y/o ideología. 
También estoy trabajando con mi esposa, Aimara Fernández, en una edición especial de un taller de creación fotográfica en 16 mm, el cual llevamos haciendo juntos desde 2017. Queremos invitar a algunos artistas a realizar un proyecto de cortometraje en 16 mm dentro de sus propias condiciones de confinamiento.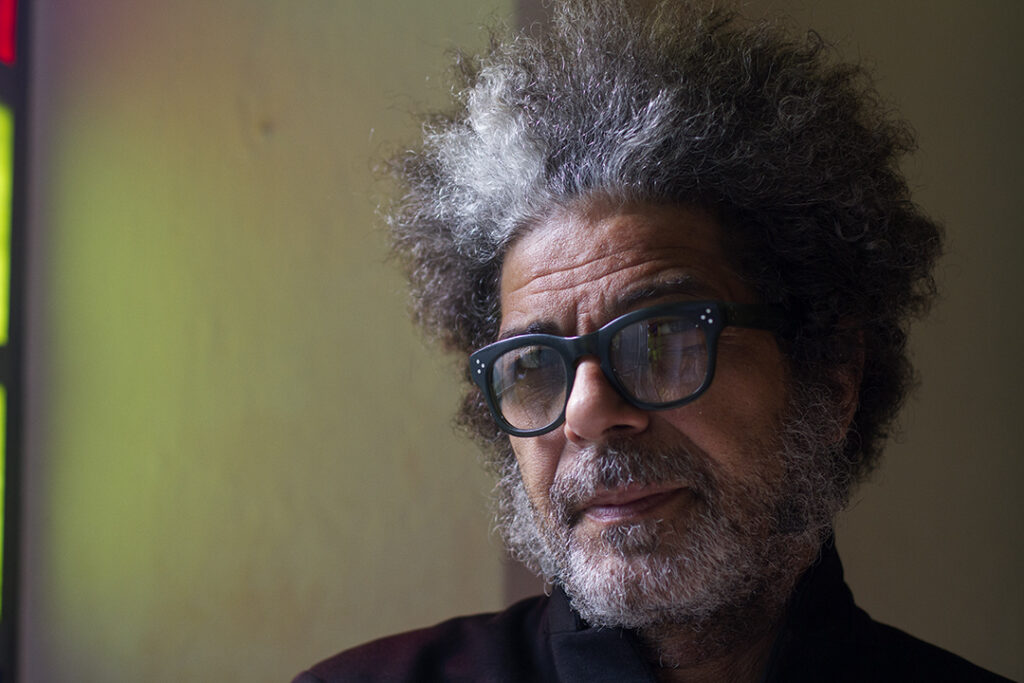 photo credit: Aimara Fernández
Juan Carlos Alom estudió restauración de negativos e imágenes fotográficas en la Fototeca de Cuba (1989) y semiótica en la Facultad de Periodismo de la Universidad de La Habana (1990). Su trabajo fotográfico y películas de 16 mm se han exhibido en galerías y museos de España, Reino Unido, Italia, Alemania, Suiza, México, Sudáfrica, Estados Unidos y el Caribe. La obra de Alom figura en las colecciones permanentes del Museo Nacional de Bellas Artes de La Habana, Cuba; Museo de Arte del Condado de Los Ángeles, California; Foro Ludwig de Arte Internacional, Alemania; Fototeca de Pachuca, México; y Pérez Art Museum Miami, Florida.